If you create Community Guidelines for your site and no one reads them, what's the point really?
We've talked about what Community Guidelines are, who they are for, and how they set the tone and standards for user participation. Next, let's figure out how you can help your audience actually find them.
Make a visible call-to-action
Can you spot the channel with Community Guidelines?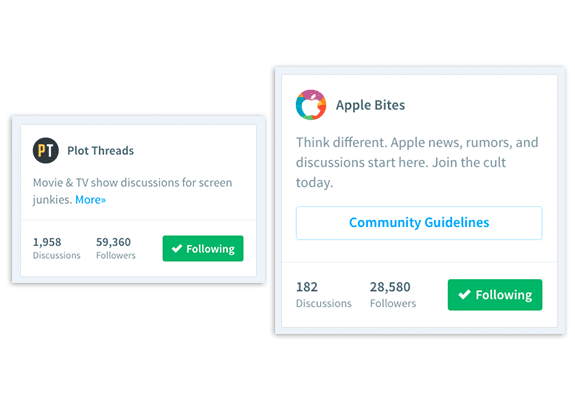 Waaaay back in the early days of user created channels on Disqus, there were a small handful of channels that created their own set of Community Guidelines. The only problem though is that the only way to find it is via a teeny-tiny text link that ambiguously read "More>>"
That fortunately got better when we swapped this with an easy-to-spot button labeled unequivocally "Community Guidelines" right below the channel's description. When we made that update, there were around 60 channels with Community Guidelines six months after the launch of user-created channels. Three months after the update, that number has doubled.
When you make important things easy for people to find, two things usually happen:
They ask about it.

They wonder how they can get it themselves.
And that is exactly what happened. Lesson learned: if you want your audience to read your Community Guidelines, don't play Where's Waldo with them.
Add your Community Guidelines directly above the comments
I recently went paintballing for the first time. After getting suited up, I attended a mandatory training session where our instructor sternly summarized this line I haven't forgotten a year later: "Only 3 people have ever blinded themselves in the 10+ years that this place has been around. The last one was about 6 years ago. Don't break that streak today."
I don't know if that reminder improved my odds of not becoming blind that day but I certainly know that I didn't forget it. That experience also taught me an important lesson with community guidelines or rules in general. Nobody will ever explicitly seek them out on their own accord. Instead, you have to capture the right moment when it matters the most to have that conversation. In the case for the paintballing facility, it's right before a new group of players enter their grounds to play. With comments, it's right before a commenter writes a comment.
Let's take a look at some examples:
We often get technical support questions on the company blog which is better suited for our support forum Discuss Disqus. So now, we include a call-out blurb located directly above the comments section.

This has the benefit of gently reminding commenters before joining any discussion to be respectful and stay on topic. Like signing an honor code to not cheat before taking an exam, the majority of do-gooders will be mindful of the rules and respect them. It's not going to prevent all crappy comments from getting posted, but it's a way to bridge that transition from reader to commenter.

/r/movies goes one step further and includes a short reminder directly inside the comment box whenever joining a discussion. While that's not possible with Disqus Engage, it's an example of closing the gap between the community's guidelines and every member's contributions as much as possible.
Provide a short summary (< 250 words)
Congrats! You've managed to make it farther through this post than the average Internet reader. Quite the impressive feat there! Give yourself an upvote.
Most Community Guidelines can be really comprehensive, detailed, and require careful reading. Instead, summarize in short sentences or bullet points the most important points when including it above your comments. Here's an example you can steal:
Stay on topic

Don't be a jerk

No spam
Boom, fewer than ten words. You're welcome. Here are three better examples of summarizing your Community Guidelines:

David Letterman didn't invent the top 10 list. He just made it something we cared enough to pay attention.

I wanted to call out this particular sentence: "Comments containing selected keywords or outbound links will be put into moderation to help prevent spam."
The summary is a good place to answer any frequently asked questions you receive such as:
Why did my comment get sent to pending?

How can I contact the moderator or site?

Can I talk about X?

Link out to any relevant pages for users to learn more about how the community is moderated.
Make the Community Guidelines a regular part of discussions with readers
Your Community Guidelines are shaped by the members who participate and add their voices to the conversation every day. Thus, you should find frequent opportunities to encourage readers to learn more about the rules for commenting, expectations and procedures for how moderation is handled, and how they can become a valued member. Here are a couple tips on how to do that.
Post a featured comment at the start of new discussions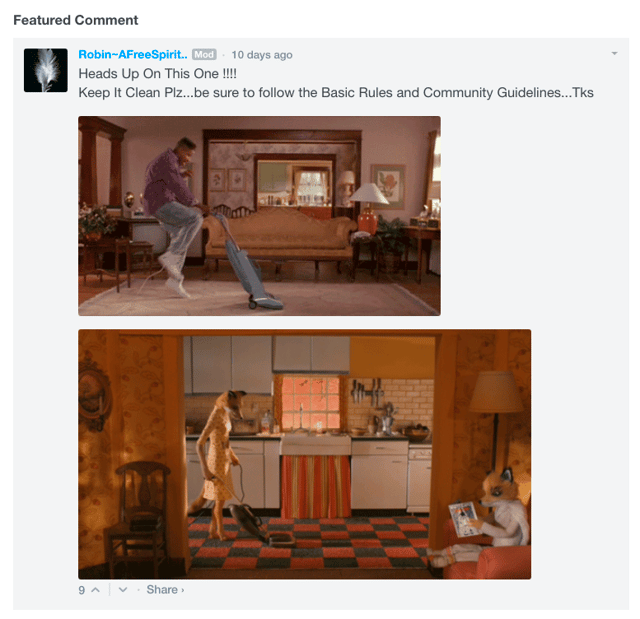 Featured comments get a lot of attention so use them to your advantage to gently remind readers to remember the house rules. If you know that a certain piece of content tends to generate a lot of commenting activity (e.g. weekly open thread, op-eds), post a comment with a link to the Community Guidelines and feature it as soon as the post goes out.
Mention the Community Guidelines when moderating
There's always going to be someone who breaks the rules and it's important in these situations to first approach this as an opportunity to rehabilitate the user rather than punish them. It's so much easier to just delete someone's crappy comment or to ban them but take that user's perspective for a moment. In some cases, the user may sincerely not realize that their comments are breaking the rules. Tell them directly instead and offer them an opportunity to correct themselves.

Moderating in such a visible way also has the potential effect of motivating others in the community to follow your example towards upholding the standards that make the site a fun, safe place to be.
Announce updates to the Community Guidelines
If Congress decided to make an amendment to the Constitution, do you think they would not mention it to their constituents? Of course not! The same should be said whenever you update your Community Guidelines. Here's a framework for how to talk about this with your readers:
What's changing?

Today, we're officially requiring that all comments must contain at least one cute cat GIF. The required level of cuteness will be at our sole discretion irrespective of the number of upvotes a comment receives.

Why?

We believe that cat GIFs are the future of our industry and will profoundly shape the future discourse of all mankind. We believe that we can become leaders in this movement.

What can readers expect to happen next?

All comments without at least one cute cat GIF will be removed. We highly encourage everyone to download all cute cat GIFs they can find on the Internet to have it available at their disposal.
Wrapping Up
Do you have any tips that have worked well for your community? Feel free to share examples (including screenshots) of how you integrated Community Guidelines into your site in the comments below! Thanks for reading.