It's here! 🎉 After months in beta testing, the Disqus for WordPress 3 plugin is now available to download in the WordPress Plugin repository.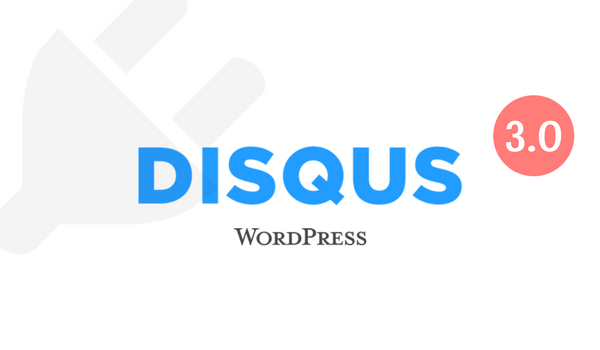 Version 3.0 introduces several notable improvements including an overhaul to Commenting Syncing, a new Automatic Installation feature, and a redesigned plugin settings page. In addition, we completely rewrote the plugin to utilize the latest WordPress APIs so that we can deliver you more frequent updates and new features in the future.
Head over to the Plugins page now in your WordPress Admin to install the update!
What's new in version 3.0?
More reliable Comment Syncing ⚡

Automatic Installation 💯

Completely redesigned plugin settings page 😍

More secure automatic importing of comments 💪

Useful Disqus shortcut links in WordPress admin 🔎

New custom filter for controlling when Disqus loads on certain pages

Enhanced Comment Syncing
Comment Syncing is now more reliable and robust for all sites, especially for highly active communities. Comments are now synced to your WordPress database using a webhook method instead of wp-cron, resolving previous reported issues for some sites. In addition, this update now supports comment edits and different comment states including approved, pending, spam, and deleted.

Comment Syncing is one of the most popular features of the plugin and available exclusively for WordPress sites. Besides providing peace of mind for thousands of sites looking to back up comments to their own database, comment syncing gives site owners flexibility if they ever decide to migrate off Disqus.
To enable comment syncing, we recommend using the Automatic Installation method (discussed next). This will automatically create and set up for you the required API application that is needed in order for comment syncing to work.
Automatic Installation
It's now even easier to install Disqus on your WordPress site using the new Automatic Installation method. Automatic Installation walks you through the steps to get Disqus up-and-running in just a few minutes. No longer will you have to hunt down your site's shortname or accidentally break your installation with an incorrect configuration.
Automatic Installation also reduces the friction to enabling comment syncing by automatically setting up the necessary API application for your site. Here's a quick overview of how automatic installation works in the new plugin: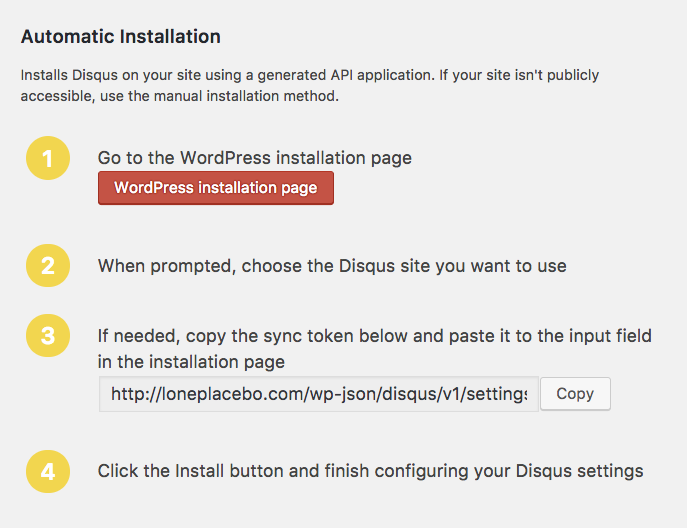 If you prefer, Disqus can still be installed manually using the plugin. After creating a Disqus account and registering your site, you will need to enter the correct shortname (i.e. the unique identifier associated with your site on Disqus) in the Site Configuration settings to complete installation.
Completely redesigned plugin settings page
The plugin settings page has a new design so that the most useful settings are easier to find. Access important Disqus settings including Moderation, Analytics, and Community Rules. Settings are now organized in dedicated tabs for simpler navigation.
Disqus can now also be found in the WordPress toolbar. In addition, Disqus replaces the Comments tab in your WordPress sidebar menu.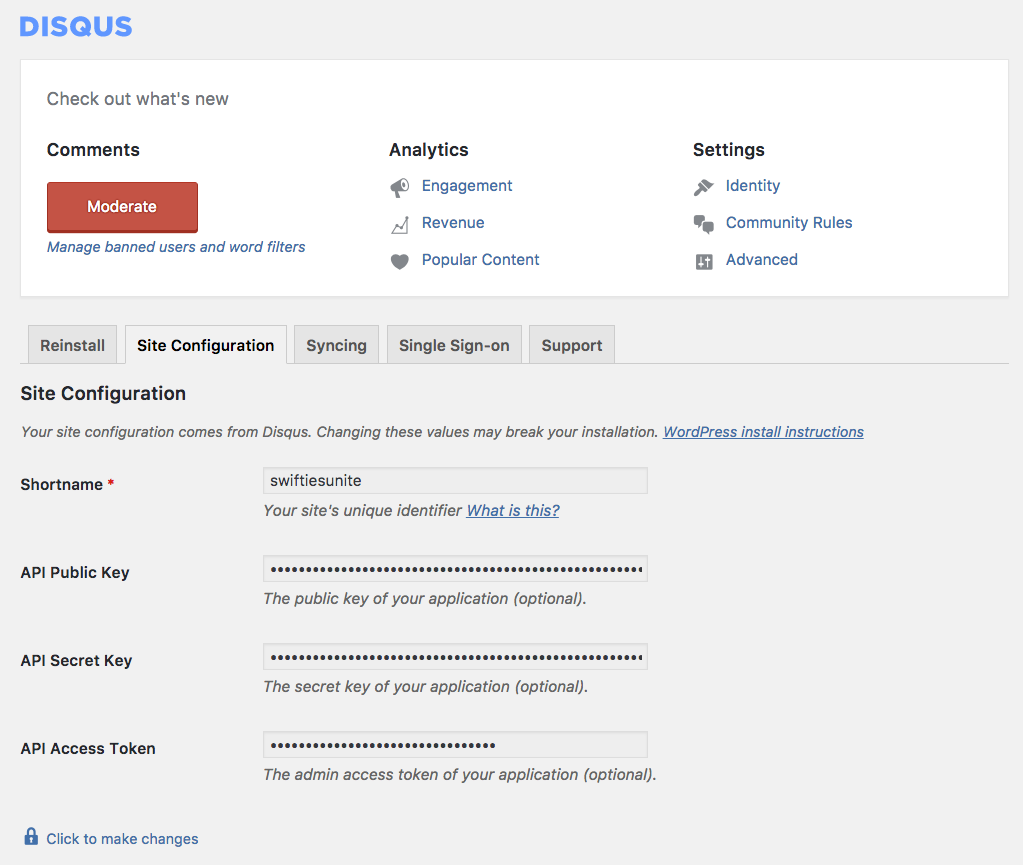 More secure automatic importing of comments
You can already migrate comments over from WordPress into Disqus using Automatic Import. In this release, we added an extra layer of security by updating to our latest, more secure APIs for importing comments.
If you're considering switching to Disqus, Automatic Import ensures that you won't lose your existing comments whether you're on WordPress, Livefyre, or another platform. Manually importing comments is still available but for most sites, Automatic Import will be easier.
New custom filter for loading Disqus on your site
By default, Disqus won't load any scripts on certain pages of your site such as your homepage, RSS feed pages, or draft posts. Using a new dsq_can_load custom filter, you can override the default behavior for either embed.js (for loading Disqus on a page) or count.js (for showing comment counts). Check out our technical documentation in our Github for more details.

Thanks to our beta testers!
We want to sincerely thank our wonderful beta testers including Veken at Hyperallergic, Chris at Batman News, and folks on our Github who shared their feedback/comments. You were really instrumental in getting this major update out into the wild and we appreciate your support!
If you are running into any issues with the new plugin update, head over to our updated Troubleshooting and FAQ guide. You can also open a new issue in our Github or post a comment below with your questions and feedback. If you're a developer, you can also submit pull requests for features and refinements you would like us to incorporate.
We hope you enjoy this update. Feel free to write us a review and let us know what you think of the plugin.

Onwards to 3.1!