As Disqus has grown over the years, our company has changed. From the way we talk about our core values to the way we plan projects to the operational policies we create, we're just not the same company at 50 employees that we were at 15! For the last six years, I've worked to create company policies that feel intuitive to the way we operate - natural (but official) extensions of the things we believe and the way we want to behave. After all, building a great community means investing in that community, and company policies are just a set of (sometimes legally-required) community guidelines!
At our core, we care about the open, diverse web. We believe in being generous, disagreeing respectfully, making an impact, being curious, and celebrating the unique characters that make our colorful community stronger. Internally, that translates to policies that are reflective of our general mindset that treating employees well will make for a happier and more productive Disqus. So when it came time to create an official parental leave policy, we knew we wanted to be as inclusive and thoughtful as possible.

"

When I recently took time off to deliver and bond with my first child, I had no idea what I was in for! Disqus' policy allowed me the flexibility to focus on my daughter and grow into my new role as mother - without worrying about eating through savings or trying to multi-task by going back to work too early. Disqus took care of me while I learned how to take care of her."
- Helen Laroche, HR Manager
We launched V1 of our policy in September 2014, providing paid time off for both primary caregivers (12 weeks) and secondary caregivers (8 weeks), in addition to Pregnancy Disability Leave for those giving birth. For a small company, we felt like we were being pretty competitive, fair, and generous. However, as we grew a bit, we realized that the difference between a "primary" and "secondary" caregiver was a little...unclear. And we wanted all of our new parents, regardless of family structure, to be able to take advantage of time off to bond with the newest members of their home communities!
So effective May 2016, we leveled up our policy, granting all new parents 12 paid weeks of family bonding leave. The employee who has given birth is also eligible to take advantage of Pregnancy Disability Leave, with Disqus making up the difference between the disability payments and the employee's regular salary. Additionally, we work with employees on a plan to phase them out of work, cover their work while they're away, and ease them back into full-time work once they return. We feel that this policy reflects our intentions to support our colorful community by not restricting types of leave to a certain family style or gender, and by supporting Disqussers during these exciting, but challenging, parts of their lives.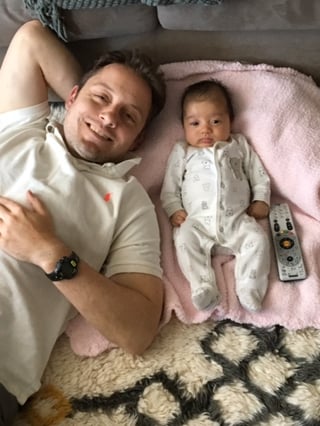 "I recently had my first baby and was blown away by the incredible parental leave offered by Disqus. This was a complete life saver for me as it gave me the time and ease of mind to focus on my family. Having such a generous policy is a testament to how much Disqus cares for its employees both inside the office and out."
- Jason Voegele, Account Manager
We're still a small company, just under 50 employees, and (as far as we know), we're celebrating the births of 5 Disqus babies in 2016! That's 10% of our population procreating in one year! But even as a small team, we're able to make this work through advanced communication, lots of planning, and support at all levels of the organization. We just had our first Disqus Mom return from her leave, and I'm actually planning to begin my leave in just a few days.
If you're on the policy-creation side at your company, think about what types of benefits and perks make sense for your changing organization. What do you want to offer, and what's holding you back? It's definitely possible to be as generous as you want to be, with the proper planning, communication, and commitment. And if you're not responsible for making these types of decisions within your organization, speak up! Get to know your local laws (Googling "parental leave" and your state or city name is a great place to start) and ask your HR department, CEO, or Founders what their thoughts are on parental leave and what the company might be prepared to offer. It's quickly becoming a national conversation, and I hope that more companies will join the discussion!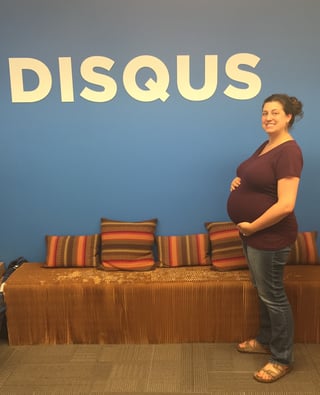 See ya in a few months!
Oh, and PS, we're hiring :)