You have a few different goals with your company blog. First, you want to drive traffic to your blog content. Then you want to inform your audience. And last, you want your readers to engage with your content, whether it's by leaving a comment, sharing your post or making a purchase.
But how can you ensure your blog posts make your readers want to take action?
One of the best ways to do so is with visuals. If someone lands on your blog post and all they see is a page full of text, I can guarantee you they won't actually read or remember any of the words on that page.
This is why you need to use visuals.
Not only do they help to break up your paragraphs, they also help to make your content memorable and they can increase clicks, comments and conversions.
So how can you increase engagement on your blog through visuals? We're going to walk you through nine different types of super engaging visuals you should be using within your different blog posts to keep readers on the page longer and get them commenting and clicking.


1. Photos
The first type of visual you can use within your blog content is photos. This might be product photos, a styled photoshoot your marketing department put together or even just stock photos to help visualize your point.
A good rule of thumb to remember is that you always want your photos to remain relevant to your content. It doesn't make much sense to write a blog post about selling ebooks with a stock photo of a pineapple accompanying it, does it?
Instead, you would want to share photos of someone with an ereader, a mockup of your ebook cover and other similar shots.
If you're using your own photography, you're pretty much always in the clear for using it within a blog post. But if you do take advantage of some free stock photography, be sure you have the proper licensing to use it on your website or that you attribute the photographer appropriately.
You can also use a graphic design software like Visme to create promotional blog graphics with completely free and commercially licensed stock photos.
2. Videos
The next type of visual you should consider using within your blog content to increase reader engagement is video.
These can be videos that your company creates and shares on your own YouTube channel or Facebook Page, or you can find relevant videos that other creators have shared and embed them within your post.
Videos offer a different way to digest your content. Not everyone prefers to learn by reading. Some people would rather listen to a podcast or watch a video.
This is why providing different types of visuals to help convey a point can increase blog engagement and entice people to comment who otherwise may not have.
3. Infographics

An infographic is typically a long graphic that shares stats, data or general information about a topic. Not every infographic needs to be full of charts and graphs, just like you can see in our example above.
Plus, infographics are incredibly powerful for promoting your blog posts on social media platforms like Pinterest and Instagram.
It's a great idea to simply summarize your blog content in an infographic format and provide a visual aid alongside your written work. You can get started with an infographic template to make your design process easier and just recap the most important bits of info.
4. Data Visualizations

Similar to infographics, but less broad, data visualizations like charts and graphs are another great visual aid when sharing numbers and data.
If you're sharing statistics related to your topic, using a data visualization is much more memorable than simply citing a few percentages within your text.
Just like our pie chart example, you can create brightly colored charts, graphs, pictograms and more to represent numbers and still be visually appealing.
5. Presentations
A presentation is another great way to provide a visual and interactive summary of your blog content. You can use an online presentation maker and embed the result within your blog post, but these can also be great for sharing externally.
You can even download your presentation and upload it onto SlideShare to easily share with your connections on LinkedIn.
This can help you to get even more clicks over to your blog post, leading to more and more comments and engagement.

6. Animated Graphics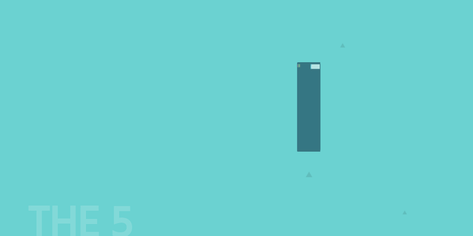 Want a really great way to grab your audience's attention? Do it with an animated graphic that you can use as your blog header, a call-to-action or a visual aid to help explain your topic.
With Visme, you can create a graphic to use in your blog content, animate each element by choosing from 15 different animation types and saving it as a GIF to upload into your content.
Animated graphics provide more oomph than a regular static graphic within your blog article, prompting more of your readers to engage or share your piece of content due to its incredible visuals.
7. Screenshots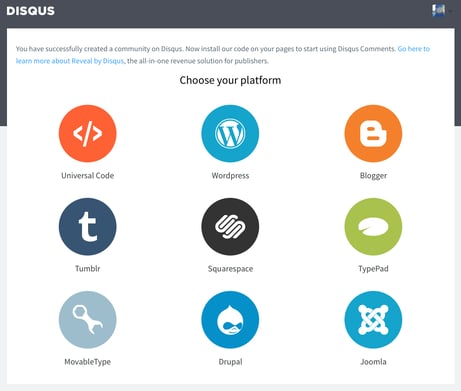 Sometimes the best way to walk your reader through certain steps is by simply taking screenshots and including them throughout the process.
This helps to break up your content so it's not just text while also giving your audience a visual aid on how specifically they can do something.
Just remember that many tools (especially social media platforms) change frequently, so you may need to revisit your screenshots every so often to make sure they're still providing accurate step-by-step information.
To see this used in action, check out this blog post from email outreach tool Respona that includes tons of screenshots along their guide to PR outreach.


8. Calls-to-Action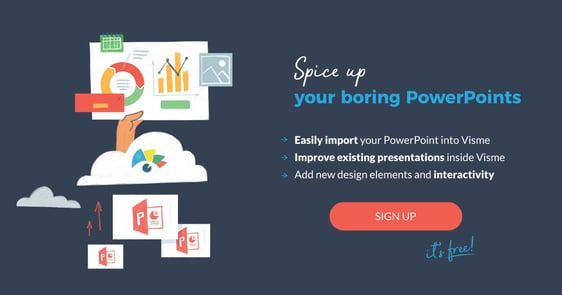 Calls-to-action are another essential visual that you should be including within your blog content. Sharing call outs to services or products your business offers that are relevant to your topic is a great way to increase conversions and sales with your blog.
Plus, you want these to be bright and visually appealing so they stand out and entice your readers to click.
The above example is one of our calls-to-action on our blog over at Visme. We have several different graphics that cover several of our offerings so that we can link to them throughout our relevant blog posts.
You can even create calls-to-action for lead magnets and signups for your email list to start nurturing these leads through email marketing.

9. Embedded Content
Embedded content can be so many different types of visual content, and we've already shared a couple examples in this post!
Both the video and presentation examples have been embedded right in this blog post. And there are so many more things you can embed, from Tableaus to social media posts and more.
Embedding content can be much more effective than taking screenshots because it creates an element of interactivity right in your blog post.


Start Increasing Blog Comments With Visuals Today
Ready to start implementing some of these visuals within your own blog? Find the perfect templates and design elements to help put yours together and make sure your readers have a way to leave comments on your blog.

Chloe is a Content Marketing Manager at Visme, an online graphic design software. She loves to write about digital marketing and design and find new ways to engage audiences through content. Chloe is based in Charleston, SC, where she loves exploring her city with her son.