Two weeks ago we made some major improvements to the Disqus admin navigation. It's cleaner, more consistent across different pages and user roles, and has a more intuitive organization of pages, tools, and settings. You'll find more about this update here. This first wave of changes wasn't necessarily focused on mobile, but it's important to us that the Disqus admin works great on phones and tablets. We know there's a lot of you out there who love to get things done on your mobile devices. That's why we're excited to tell you about a few more updates we've released over the past few weeks that aim to improve the Disqus admin experience on mobile.
Mobile-friendly Navigation
The new navigation works and looks great on mobile as well as desktop. The top level navigation now displays at the bottom of the screen for quick access, much like what you'd expect from a mobile app. The improved subpage navigation at the top makes it easier to dive deeper without needing to fumble through a full-sized navigation on your phone or tablet screen. Need to close a thread from last week or quickly adjust your pre-moderation settings? The mobile-friendly navigation makes these pages readily available without cluttering up what you're viewing.
Mobile Design
We've completed some general cleanup work on the mobile form factor of the Disqus admin. Without removing or changing any of the admin features, tools, or settings you're used to, these pages will now display cleanly and responsively at the narrower widths of your mobile or tablet screen. No more zooming and dragging!
Powerful Moderation Tools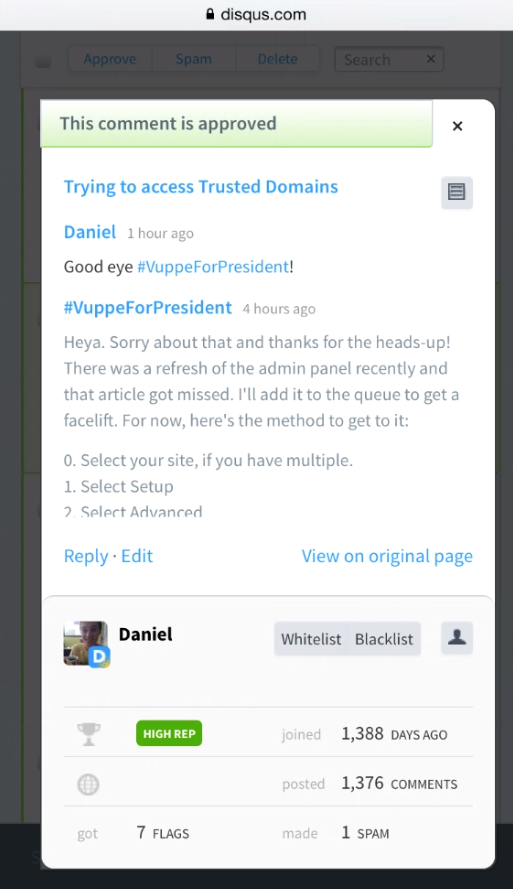 Dive into the details of a comment and user by tapping on any comment in the moderation view. On a mobile device, this will now open the moderation sidebar in a mobile friendly box, which will allow you to get a quick overview of a user's reputation and spam history. This box also gives you quick access to whitelist and blacklist actions, search by thread, and other powerful actions you'll recognize from the desktop version.
Let us know how you use Disqus on your phone or tablet! Do you moderate comments, change your settings, manage moderators?
Notice anything that's not working for you on mobile? Let us know your device version here and describe what isn't working as expected.