Today, we're announcing significant updates to Reveal: a new default ad unit called Sponsored Story, simpler settings, better controls, and a preview of what's to come.
One year ago I started working at Disqus. And as I reflect on my time here, it's been an exciting journey when it comes to native advertising. For my entire career, I've been in the advertising industry. I've witnessed and participated in the introduction of behavioral targeting, programmatic media buying, and countless other changes in the advertising space.
A big factor in my decision to join Disqus was the company's ongoing innovative approach to native advertising starting back in 2012, when it introduced its first native advertising product, Promoted Discovery—not to mention the intersection of engagement and content across its massive publisher base.


Why do we care about native advertising?
For all the people who question advertising online, the numbers tell another story. There is still no better way for publishers to make a living on the web than through advertising. It's hard enough for people to write about the things they love and get people to read and comment on it. When faced with that dilemma, data shows that native advertising is the best way to make the most of advertising online.
The reasons are what you'd expect, native advertising is often less disruptive than traditional banner ads. And according to MDG Advertising:
"70% of Internet users want to learn about products through content vs. through traditional advertisements."
Ultimately, if you're going to use ads on your site, you want them to work. That's why every major social platform from Facebook to Pinterest, including Disqus, have some form of native advertising available. And the reasoning is clear, native ads are highly effective:
Consumers looked at native ads 53% more frequently than display ads.
25% more consumers were measured to look at in-feed native ad placements (the most common editorial native ad format) than display ad units. ~Sharethrough Study


What we've learned
During my first 90 days at Disqus, I spent a lot of time listening to publishers. Based on what I heard, we made a commitment to get several key things right in order to improve our native ad product so that publishers would really want to use it:
First, we knew we had to make native ads look amazing and native;
Second, we had to give you more control over the types of ads you show;
And third, we had to offer something that fits above, below, and even within the comment stream to respect the real estate on your site.
With our latest updates, we're well on our way to fulfilling all of these milestones.


Introducing Sponsored Story, a truly native, adaptive ad experience
To start, we're introducing our Sponsored Story ad unit and making it default for all Reveal publishers. The great thing about Sponsored Story is that it is amazingly elegant and beautifully native. It literally adapts to the design and layout of your site.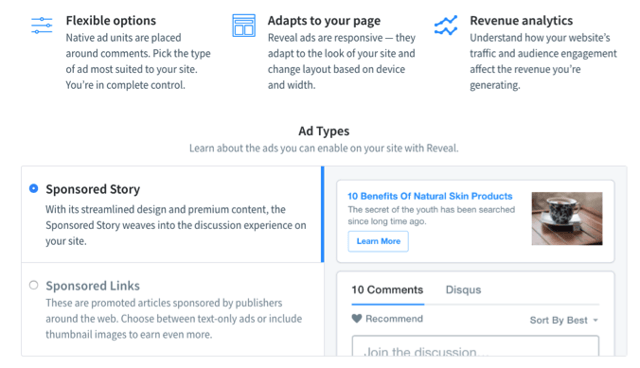 With our Sponsored Story ad unit, we've matched everything from the fonts to the colors of your site, and then made it responsive. Whether your readers are on desktop, tablet, or mobile, they'll see an elegant, native experience every time.


Why Sponsored Story?
Based on several months of testing, we found that our Sponsored Story performed better across all platforms, especially on mobile, reaching an overall 20% increase in monthly earnings for publishers. Longer term, performance gains will lead to improvements in native ad inventory from our partners, achieving even more earnings over time.


New settings, new inventory, more control
You now get more control over the types of ads you may want to show on your site. Reveal comes with multiple layout options and newer, easier-to-understand settings. Currently, we give publishers the ability to show ads above or below the comments, or in both locations at the same time.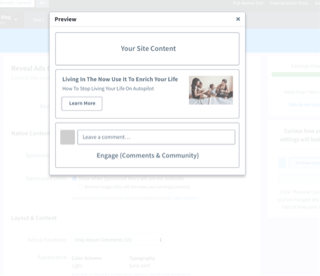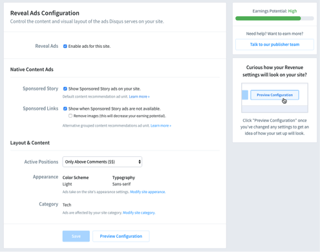 You can also curate the types of ads on your site with one simple click. We know that each site is unique, which is why we've added even more ad content controls for publishers. Administrators and moderators can now click on ads they don't like and submit them to us for removal. Additionally, anyone who sees an ad can click to tell us it's out of place. We use this signal to improve the ad mix for every publisher.

Progress through partnerships
One of the areas I'm most excited about is our partnerships with native advertising platfo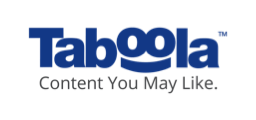 rms. Earlier this year we announced our partnership with Taboola as a native ad partner for our traditional Sponsored Links ad units. Publishers of all shapes and sizes can now take advantage of Taboola's advertising technology without adding any new code all via Disqus. Partnerships like this make Reveal a distinctly effective advertising option for publishers, as it gives them access to a variety of major advertisers, without the hassle.


What's next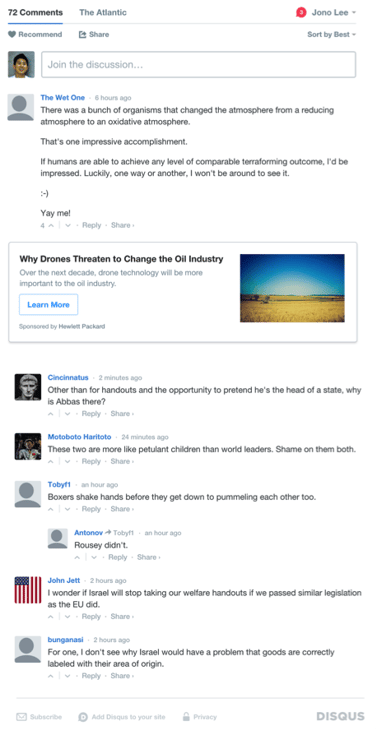 After all of that, I did promise to tell you what's next in native advertising at Disqus. So here goes… later this year we'll implement an in-thread ad position to open up even more native inventory on your site. You'll also be able to directly sell into this ad space. The reasons for this are two-fold. One, we've heard from you that your site's real estate is very important to you, and two, that any new ad unit should be open for you to sell into to meet the needs of your site.
We believe that giving publishers access to an in-thread ad unit position will make it easier for you to make money on your site. Why this inventory space is significant is that your most-engaged readers spend a lot of time engaging with your site here. This means that publishers with an active community can finally make more money than was previously possible, only on Disqus.

I'm sure that was a lot to take in, but I hope you'll share in this exciting time for Disqus and our focus on helping publishers across our platform. There's much more to come. I've really enjoyed my first year at Disqus, and I can't wait to tell you even more about what's coming in the years ahead.

If you have any questions about my update, drop me a note in the comments.