Recently, we rolled out several sweet updates to the Moderation Panel to reduce the time one spent moderating. With Priority Sort, moderators can now quickly focus on the comments that need the most attention first. Searching for comments is now faster and easier with the new Filter tool that lets you view comments by issue. Lastly, smart comment tags provides much-need context about a comment in moderation.
We're thrilled with the feedback from moderators so far and excited with the progress that's been made. Our team has been working hard to deliver more critical improvements and I'm excited to highlight two of them today.
Jump back in time with Moderation History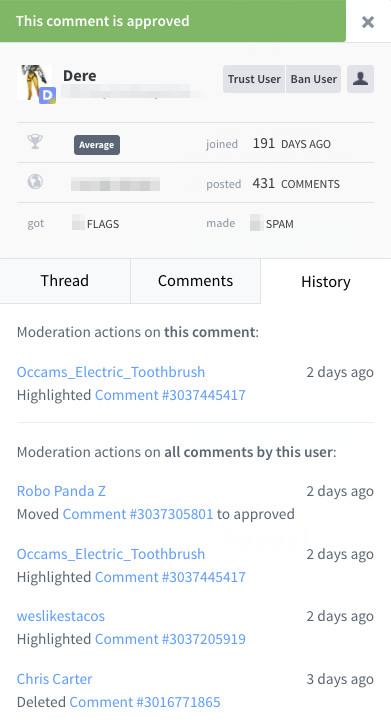 Ever wonder what moderation action(s) were taken on a particular commenter? Or perhaps which moderator on your team reviewed a comment? Now, you can find out both answers with the new moderation history view.
To get started, select any comment to toggle the sidebar panel. Then, select the new History tab to view a log of all the moderation actions for the commenter including approval, deletion, marked as spam, and featured.
Experience X-ray vision with Restricted Word highlights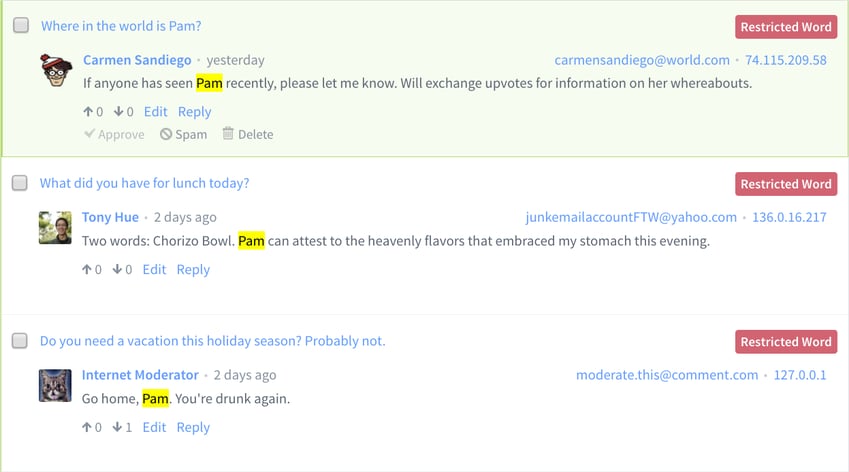 If you've ever wondered what specific word(s) in a comment caused it to be automatically flagged for moderation review, the Moderation Panel now highlights restricted words. Especially for longer posts, highlights provide a helpful visual cue that can speed up the time needed to review a pending comment.
Thanks again for all of your feedback! If you'd like to suggest an idea on how we can make moderation better on Disqus, let us know below. Our team will be monitoring this thread and replying to any comments/questions.