When we release new features like Comment Policy or the new Toxicity Filter, the Disqus Blog is your go-to place to learn about the latest product developments. In reality, we ship updates and deploy new code every day that improves Disqus constantly for both publishers and commenters. Some of the changes we make however are never announced on the blog.
In this post, we want to share 7 small updates to Disqus that you should know about. They include various bug fixes and improvements to popular features. These changes are all made possible thanks to the feedback you've shared with us so thank you for your continued support ♥ Here now are recent updates we've made to make Disqus better for you.
Faster response times
| | |
| --- | --- |
| Before | After |
| | |
Posting comments is now 50% faster (going from ~ 1 second to 500 ms) thanks to improvements to how we handle caching.
View engagement analytics by month

You can now view your Disqus Analytics grouped by month. This is particular useful when tracking historical engagement performance over a longer period of time and identify emerging trends.
Analytics CSV export bug fix - Previously, you could only export the last 30 days of engagement analytics. This fix allows you to export data for any custom date range and perform your own additional analysis.
Embedding rich media links from Imgur and Giphy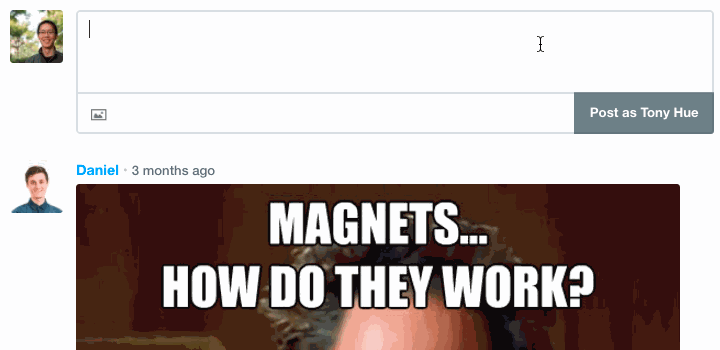 Disqus automatically embeds rich media links from services like YouTube and Twitter and formats it to look nice in any comment. This fix restores existing support for embedding links from Imgur and Giphy. In addition, we now also support .gifv files.
Increased total restricted word limit - This raises the previous limit of 300 to 2,000 words that you can add to your site's Restricted Word filter.
Easily preview links in comments

If you hover over a link from a comment in a discussion or the Moderation Panel, you can now preview the full path of the URL before visiting the link. By default, all links in Disqus pass through our URL shortener (e.g. disq.us) and longer links are automatically truncated. This fix makes it easier to see the original URL and expedite the moderation process.
Automatic installation in latest WordPress plugin beta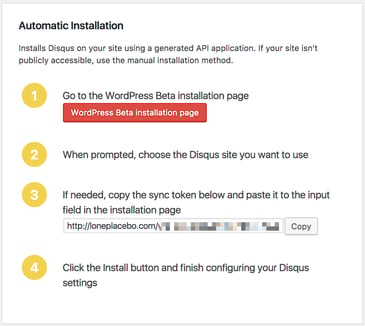 The latest beta release for the WordPress 3.0 plugin now lets you install Disqus using an easy automatic installation method. With automatic installation, you can also turn on comment syncing on your site without having to manually create and configure an API application yourself. The plugin now does that for you automatically.
What updates do you want to see next?
If you have any specific product feedback about commenting, moderation, or analytics, post a comment in the discussion below. We'd love to hear from you.