Let's face it—you, as a Disqus publisher, don't have the time or resources to sit there and manually review each comment being posted to your comments section, do you?
We didn't think so.
That's why we're doubling down on offering you powerful tools that enable you to proactively establish your site's moderation policies once and for all—giving you more time to work on other impactful tasks while resting assured that you've given your community the civil and brand-safe conversation it deserves.
Today, we're introducing a set of fully customizable and dynamic tools as part of our enhanced Advanced Moderation offering. These features leverage AI-powered capabilities to enable you to set your comments section up for maximum success while drastically lowering your time spent manually managing your comments section.
Harness the power of automation and intelligent signals 
With access to our Advanced Moderation tools that categorize and score comments across 15 languages, publishers can proactively manage the quality of conversations, ensuring continued positive, high-quality engagements with your content. Unlike legacy moderation systems, this unique approach allows publishers to grow their community engagement while protecting advertising or subscription revenue—all without devoting more resources to moderation.
By expanding our list of available comment categories, we are offering you much greater precision in managing your community. Now, you can create Moderation Rules based on the following selection of all-new categories:
Hate speech
Violence
Sexuality
Bullying
Promotion
To drill down further and give you an even greater degree of control, each category is graded based on a severity scale of 1 to 3.  Flagged comments with a grading of "3" will be the most explicit or extreme content for that category. Comments with a grading of "1" will be the least extreme content that still fits the content category.  
For a more detailed breakdown of each category, please see here.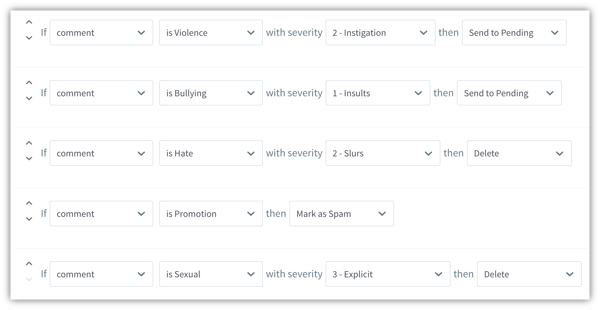 Set it and forget it
Via the new categories, you can create the precise combination of Rules that yields the quality and tone that best suits your community.
Want all comments flagged as containing any hate speech to be deleted automatically before they go live? You can create a Rule for that.
Would you like all comments flagged as containing moderate sexuality to be sent to your pending queue for further review? You can create a Rule for that as well.
You, as the guardian of your site's comments section, know what's best for your community. Now you have the customizable tools available that enable you to create a clear set of guidelines for your users, all while lowering the burden of moderation by reducing time spent on manually evaluating low-quality contributions.
Why now?
In essence, these enhanced moderation tools allow publishers to identify, filter, and automatically eliminate unwanted engagement. Doing so ensures that commenters and readers will always be exposed to high-quality and safe exchanges to promote retention and continued community loyalty.
Where's the value in high-quality conversations? Beyond merely offering your community a space where they feel empowered to join the conversation and engage, maintaining a high-quality conversation allows you to attract premium advertisers and sponsorships that drive meaningful ad revenue.
These highly configurable comment categories enable you to proactively shepherd the quality and tone of conversations, helping you disincentivize bad actors and ensure that your commenters and readers always remain safe.
Take your current set-up to the next level
Currently, Advanced Moderation is available to our Disqus Pro and Business customers.
Do you have existing Moderation Rules in place? Awesome—you can create new Rules that complement and strengthen your current setup. If you haven't set up Moderation Rules yet, this is the perfect opportunity to begin leveraging our proactive moderation tools that do the heavy lifting for you.
Do you think your comments section would benefit from Advanced Moderation? Sign up for a free 30-day Disqus Pro trial and start exploring Advanced Moderation today.
💡 - Need help getting started with Moderation Rules? We've created this handy quick-start guide to get you set up in no time.