Disqus is designed to help publishers build on-site engagement and retain loyal audiences. We know firsthand from our conversations with you that a lot of hard work goes into this process. That's why our Publisher Success team is constantly thinking about how we can make your life easier as a publisher. A big part of our strategy is to arm you with information about our product the moment you need it most.
If you haven't already heard of our very own community, I want to introduce you to Discuss Disqus.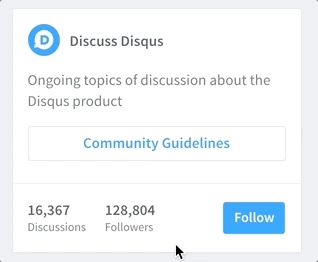 What is it?
In addition to resources like our Knowledge Base and direct email support from our team, Discuss Disqus is a channel where anyone can ask for help from our community or browse existing solutions. In the last year alone, the channel has amassed over 3,725 discussions — it's a great place to check if your problem has already been addressed by the community. Just as the name suggests, this channel welcomes ongoing discussions about Disqus, questions, and feedback. Most importantly, the channel is designed to provide a space for publishers to learn from other community members.
How can you use this resource?
With the breadth of content that exists, it might feel a bit overwhelming. We have some tips below that will help you get the most out of Discuss Disqus.
Search first. Every discussion on Discuss Disqus can be searched using Google using the search parameter "site:disqus.com/home/channel/discussdisqus/". With the number of discussions that exist, the chances that you'll find your answer are very high. Take for example, this search for "Single Sign On":

Browse. If your search doesn't turn up any results, you can always browse through the content you find on the main page. Use the Recommended or Latest feeds to scroll through active discussions or the Channel Topics in the left sidebar to filter on specific topics/categories.
Ask for help. We're a friendly community of Disqus experts, both staff and volunteers. If you can't find your answer, we're here to help point you in the right direction. Just click the Discuss button to get started. Make sure to include a category, relevant tags and a descriptive body filled with screenshots and links that illustrate the problem.
Share feedback. We love to hear how Disqus could work better for your needs. We encourage you to propose new features, and see how it resonates with other users like you. If you see feedback that you like. Give it a ❤️ to recommend it.
Here's a quick look at what you can expect to find from different types of Disqus users:
Publishers:
Commenters:
Developers:
We're proud of this unique support community which wouldn't be possible without our amazing volunteer moderators CaliCS and Vuppe. Here's what they told us was their favorite aspects of the community:
"Getting to know different people from different places, sometimes coming across a familiar face from one of my own frequented places." - CaliCS

"The community, beyond even the mods, are very helpful. It's really nice to see others helping out when needed and being helpful." - Vuppe
Want to get involved in our community?
We encourage anyone who is interested to apply to be a volunteer moderator for Discuss Disqus. Our community thrives on inclusivity and we welcome your contributions. If you know the Disqus product inside an out and you enjoy volunteering your time to help other internet citizens, we want to hear from you!
It takes many typing hands, watchful eyes, and helpful spirits to keep our community thriving. We run a private Slack channel just for Disqus volunteer moderators, where we all talk shop about the Disqus product, help each other out, and even have some occasional fun: