At the beginning of the week, we asked readers to share their predictions for the 2018 World Cup. Since then, 16 teams have been knocked out, and 16 are moving onto the next round. If you thought the group phase was intense (and shocking… cough cough, Germany), prepare yourself for the next set of games; with the sudden death stage of the tournament upon us, competition will certainly be heating up🔥.
And now, let's see what voters had to say....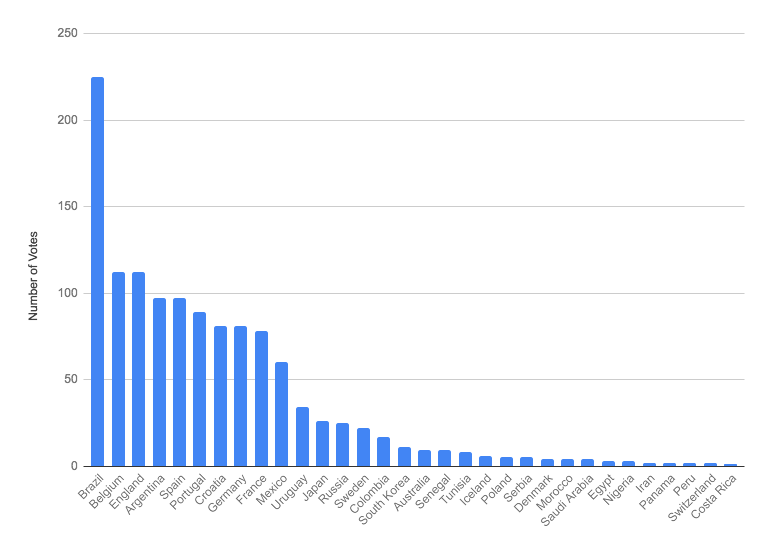 After four days, our poll received 1,236 votes and 281 comments. The vote was dispersed amongst all teams, each of the 32 receiving at least one vote. The Disqus community favored Brazil as the World Cup winner, with 18.2% of the votes. Belgium and England tied for second, followed by Argentina and Spain for third to make up the top five contenders. At the beginning of the week, incumbent champion Germany was in the top two, but support ceased when they lost to South Korea on Wednesday. Switzerland and Denmark were underestimated, securing spots in the final 16 over several other countries ranked ahead of them.
With the elimination phase commencing tomorrow, it won't be long before one team claims victory, and we see which poll voters predicted correctly. From now on, winning each game will be essential for a team to move forward, leaving little room for error. Given the suspense of such high-stake circumstances, it's safe to say the next 16 matches are not ones you'll want to miss!
Whether you've been an avid fan or you're just gaining interest in the tournament, we highly recommend following the matchups over the next few weeks. To help you out, we've chosen a few of our favorite Disqus sports sites so you can stay up-to-date with the latest World Cup news and discussions.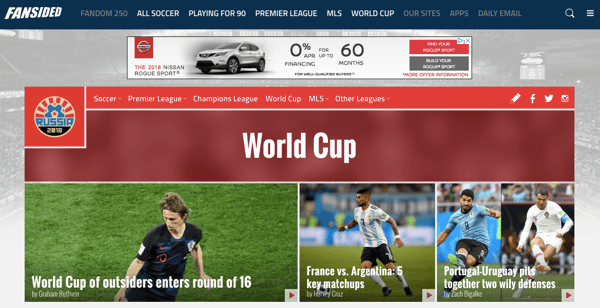 Fansided
Fansided is a great resource for comprehensive coverage of football (and countless other sports). They've created a page specifically for the World Cup, putting forward the latest in match outcomes, upcoming games, injuries, and player performance. If you're just hopping on the World Cup wagon, Fansided is a perfect place to catch up and follow along.
KICK OFF is Africa's leading football magazine. The KICK OFF website covers various football teams, leagues, and cups in Africa and across the world. Its World Cup page presents the best of both worlds: straightforward stats displaying match results, top scorers, and general tournament facts and in-depth news articles that can be organized by main headlines, most read, or most commented so you can easily find what you're looking for.
This is Anfield is a Liverpool Football Club supporters site, typically providing news and opinions pertaining to Liverpool FC. In honor of the World Cup, they've pledged to cover the tournament… from an LFC point of view. Examining LFC players partaking in the competition, scouting those linked with Liverpool, and suggesting who and what to look out for, this site offers a unique lense to view the World Cup through.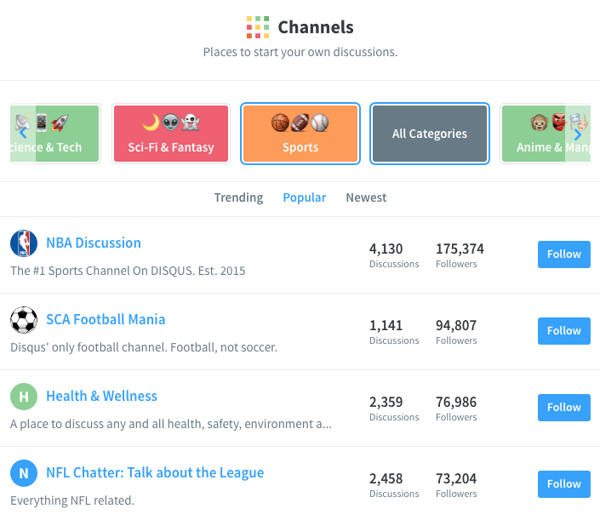 Discussion forums on Disqus.com are another fun option to check out what folks are saying and to share your own ideas about the World Cup! SCA Football Mania and Sports for Everyone are two good channels to start with. They can be found in the Sports category of the Explore page.
If there's any other Disqus sites with great World Cup coverage that we've missed, let us know in the comments below! Otherwise, kick back, relax, and enjoy your weekend (watching football, of course!)
Want to keep the discussion going?💬
Do you say football or soccer?
Who's been your favorite player in the World Cup?
What team has surprised you most?
Do you play football?