Here at Disqus, we understand that larger organizations have more complex needs—and that these needs extend to the services they rely on to drive their business forward. That's why we're taking a moment to put the spotlight on Disqus for Business – our enterprise solution for companies that demand more adaptability and precision from the tools they use.
In today's world of digital publishing, with the ever-growing ubiquity of social media and a crowded field of commenting solutions, basic functionality just won't cut it. Publishers need much more than the same old commenting plug-in that they're used to—the fast-evolving digital publishing landscape demands the use of tools that publishers need to stay ahead of the game.
At the same time, online conversation now comes with more responsibility than ever before. We are understanding more and more that there needs to be greater accountability for how people behave and express themselves on the internet. Publishers, as both providers and guardians of that conversation, require a commenting solution that provides the functionalities they need to rise to this challenge.
Disqus for Business is exactly that solution. Let us explain why.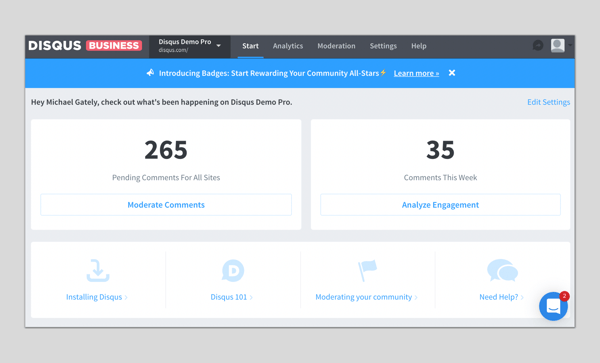 Enjoy seamless Single Sign-on (SSO) integration
For publishers, it's simple—your users' needs come first, and offering those users a simple, stress-free UX is crucial to gaining their loyalty and ensuring that they return to your site again and again. WIth Disqus for Business, you'll be able to maintain SSO integration that makes registration and log-in a breeze—and also allows you to retain complete control over your user data for a more secure arrangement.
With the imminent end of 3rd-party cookie tracking, the need for SSO becomes even critical. Retaining control over your user data will become even more important than ever; SSO functionality protects your users from predatory tracking and spam, resulting in greater trust between you and your users. Retain control over your user data and you'll retain your users, period.
Note: Disqus for Business offers both SSO-only and SSO-lite integrations. SSO-lite gives commenters the ability to log in via one of the standard options (Disqus, social media, Google, etc.) in addition to your site's own log-in.
Customized brand removal implementations bring everything together
Want to enjoy all of the features that come with a Disqus commenting solution—but with your own branding intact? Disqus for Business gives you not just the ability to remove our brand from the commenting embed, but also have the ability to customize the appearance of the embed according to your site's look and feel. This way, you'll offer a visually streamlined comment system that reinforces your brand and bolsters the aesthetic cohesion of your site as a whole.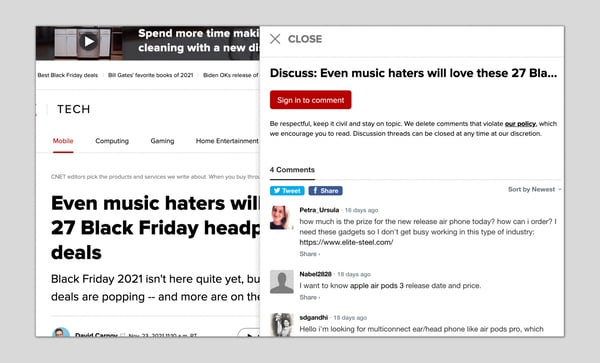 Full, unlimited access to our API
Looking to take your Disqus for Business subscription to the next level? You'll get unlimited access to our API—giving you the freedom and flexibility to optimize our product to best serve your use-case, whatever it may be. Current Disqus for Business publishers often utilize their API access to pipe commenting data into their own analytics and/or moderation platforms. Whatever the need, we work with you personally to unlock the full potential of all that our services have to offer. Live-blogging adaptability? Check. Live event coverage? Yep. With our creative and customized implementations, the sky is truly the limit.
Disqus for Business comes with all of our multi-layered, best-in-class moderation features that ease the burden of moderation and give you the tools to offer your users a high-quality and civil conversation free of spam and toxicity.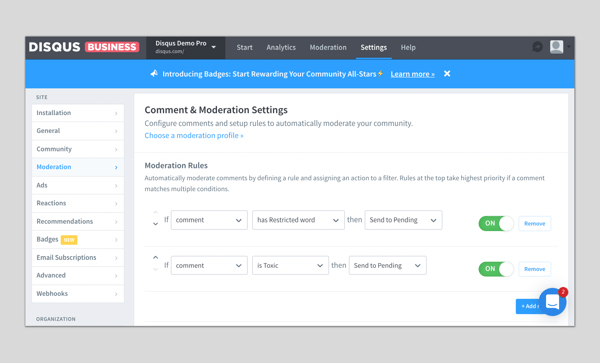 Integrate successfully and with confidence
What's the real key to the success of our Disqus for Business customers? It's our commitment to creating a customized integration that unlocks the full potential of our partnership – no matter what your team's needs may be. We work tirelessly with you to make sure you're getting the most value out of our products.
Our Disqus for Business customers often face complex challenges that require specialized attention and care. To that end, we provide dedicated account managers that become experts on your team and its needs; plus, you'll have access to a diverse network of support channels that deliver assistance in a timely and efficient manner.
You'll have access to Disqus' first-class panel of content & engagement tools, helping you leverage the power of data-driven, in-depth analytics to evaluate and inform your content strategy.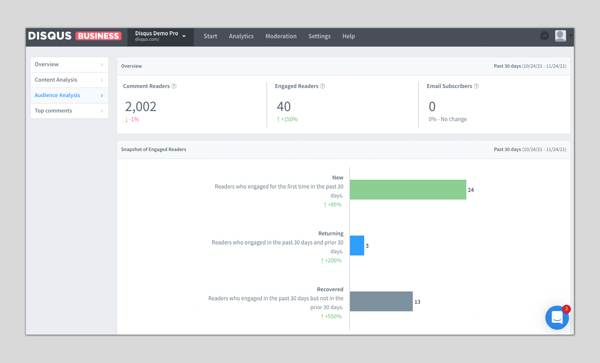 Organizations from all across the spectrum, from entertainment and news websites to health care providers and everything in between, currently utilize Disqus for Business to elevate their level of online conversation. Our dedicated account managers are here to guide you every step of the way.
To learn more about how your team can benefit from our solutions, chat with our sales team today.