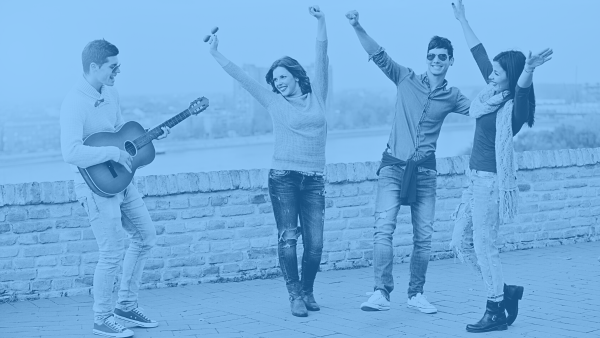 Britney Spears. Boy bands. Reality TV game shows. Harry Potter mania.
No, we're not talking about pop culture news and trends from the 2020s—we're reminiscing about 20+ years ago. As tends to happen in society, we see all these things resurface, albeit in slightly altered ways. We're now worried about Britney Spears' welfare. The biggest boy band in the world right now is a K-Pop band. We have reality shows like RuPaul's Drag Race. Harry Potter now has a Broadway musical and space in two theme parks.
And blogging, homepage traffic, and niche newsletters, which all took off in the early to mid-2000s, have once again become a linchpin for digital news media businesses.
Everything old is new again
We tend to forget that 20 years ago, Facebook and Twitter hadn't even been born. Sustaining a healthy media business wasn't about clicks or virality. It was about the 1:1 relationship between publisher and reader.
Starting in the mid-2000s, social media networks became the "virtual front pages of the internet, delivering a mix of viral news and whatever articles and videos social algorithms thought you wanted," wrote Max Tani in a recent article for Semafor. This led to the advent of digital publications that wanted to capture this traffic and hopefully replicate what long-time news sources like the New York Times had done regarding their large readership.
For years, as social media soared in numbers, this approach worked. But cracks began appearing for platforms like Facebook around the 2016 election as the integrity of the information it spread came into question. As misinformation and disinformation, privacy lawsuits, data leaks, and more followed, Facebook sharply pivoted away from news. In addition, the Elon Musk era of Twitter has marked the end of the verified "blue check," meaning platform users can't discern as easily which accounts are legit and which aren't. Then add more recent events like the shutdown of BuzzFeed News, mass layoffs at other news sites, and the bid to sell others, and it's clear that social media-driven news was all just an aberration and not the actual future.
We've learned these lessons the hard way. Thanks to a permanently negative news cycle and the spread of inaccurate, misleading, and sometimes outright destructive content, many advertisers have pulled back on spending on news altogether. This, combined with third-party cookie deprecation and macroeconomic uncertainty that has led many brands to cut back on ad spend, has left digital publishers scrambling to shore up new revenue streams.
The future looks bright
But it's not all doom and gloom.
Like in the early to mid-2000s, internet users are now returning to their old ways to get their news instead of social media. Even amidst digital media and economic headwinds, this presents a fantastic opportunity for publishers to maintain their health and growth.
Now that sites are no longer chasing virality, they can return to prioritizing their relationships with readers. With more robust content focused on actual journalism and public service, not clickbait, readers will follow. This means that pursuing subscription models becomes a more viable source of revenue for publishers.
As Slate editor-in-chief Hillary Frey puts it: "There is a reason why the New York Times is thriving, and places like HuffPost, Slate, and New York Magazine are still around. We're legacy; we have homepages and loyal audiences. And while we always want to grow, we have fans who have grown up with us, rely on us, love us, or enjoy us—and are willing to pay to support our work. Loyalty like that was built through homepages and curation, not distribution on Facebook or Twitter, even though we all counted those drive-by clicks as something real once upon a time."
All of this signals that publishers need to double down on the tried-and-true community-building approaches that once proved fruitful before we got distracted by social media. This requires an understanding of your readers and the type of content that most attracts them so you can write and recommend more of the same. It requires building a safe comment community underpinned by moderation policies and tools that keep toxic dialogue off your site. It requires your responsiveness as a publisher to these discussions to ensure they're appropriate and keep a good conversation going. And it requires, when applicable, getting repeat readers to register and, eventually, subscribe to your site so you can monetize quality content.
We're here to help
Disqus has existed since the early days of social media, and we remember the good old days to which publishers are returning. We know how to help publishers build good communities that drive traffic to their home pages and keep the right readers returning and contributing valuable conversations. Get in touch with us today to learn more about how you can prepare to go back to the future in this next era of digital publishing.