Introducing Badges—our brand-new feature that lets you bestow special badges onto commenters who make your community a lively and engaging place.
Think of badges as a reward system enabling you to put the spotlight on your community all-stars, jesters, convo-starters, experts, and, well, just about anybody you want. These are the people who drive the conversation and transform your community into one worth coming back to again and again... so now here's your chance to show them a little love!
Badges are displayed next to each commenter's username on your site as well as in the Badges section of their user profile.

How Do Badges Work?
We've made this feature as easy to set up as possible – just check out our Knowledge Base article as well as our handy-dandy video tutorial to get started.
When creating badges for your site, you can choose to utilize both automated and manual badges, allowing you greater flexibility when deciding when and to whom you'd like to award a badge:
Automated badges

will be awarded once a user meets your designated criteria. Example: You've created a Top Commenter badge and set the criteria to include users who have commented 100 times on your site. Each commenter will now automatically earn this badge when they reach 100 comments moving forward.

Manual badges

, on the other hand

,

allow you to award specific badges to commenters whenever and to whomever you'd like. You see a particularly hilarious comment and you'd like to award the commenter a Class Clown badge right there on the spot? Your site's Organizational Admins and Site Moderators can do exactly that.
We created a small library of badge images to help get you started, but you're also free to upload your own snazzy images that are fun and unique to your community.
Here's a list of badges created by our good friends at ScreenAge Wasteland: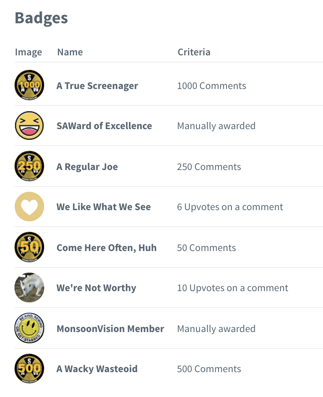 Why Badges?
Think of it as Community Psychology 101 - it's always helpful to reward the behavior you'd trying to encourage, right? We think of badges as an engagement tool, enabling you to foster a robust and dynamic conversation in your community by rewarding the most engaged members while enticing others to chime in and make their voices heard.
Simply put, badges make your commenters feel loved, and users who feel loved become loyal users who will spend more time on your site contributing to community engagement and boosting traffic.
But don't just take it from us:
"When we implemented badges onto our site, we saw our community really latch onto it almost instantly. Commenters were excited when they received a badge! They couldn't wait to get another one! Badges have been a great way to keep track of our regular commenters, but they have also acted as a nice way of saying thank you to the commenters for continuing to support our site each and every day."

Marmaduke Karlston
Site Admin at ScreenAge Wasteland
Get Started With Badges
Disqus Pro and Business customers can enable this feature and start awarding badges today. Sign up for a free 30-day Disqus Pro trial to get started with Badges now.
We know you value your community members – now's the time to show it.