One of the main objectives for Disqus is to help publishers engage and retain their audiences. It is difficult to do this if your content cannot be found. We recently redesigned our Discovery tool to help increase site traffic and time spent per unique for publishers. We are excited to unveil the new Disqus Recommendations!
This is a cleaner, sleeker, and more visual experience for your site visitors. Recommendations is an engine that helps recirculate traffic to pages with Disqus installed.
Check out the new look below:

How do I get started?
You'll notice that if you previously had Discovery enabled, it's been replaced by the new Recommendations. If not, and you wish to enable this new tool, go to your Disqus admin, and under the Settings tab navigate to the new "Recommendations" section (or simply click here 😉). This is also where you can customize the display of your content recommendations. From this page you can customize:
Choose a layout: choose to show or hide brief descriptions of the content on that article
Publish Date: you can show or hide the date when the thread was created
Comment Count: you're able to show or hide the comment counts of the recommended pages
Date Threshold: decide if you'd like to restrict content recommendations past a certain time frame (the last week, month, six months, or year)
Recommendations Placement: the new unit can be placed at the top or the bottom of the Disqus embed
Your settings will look like this: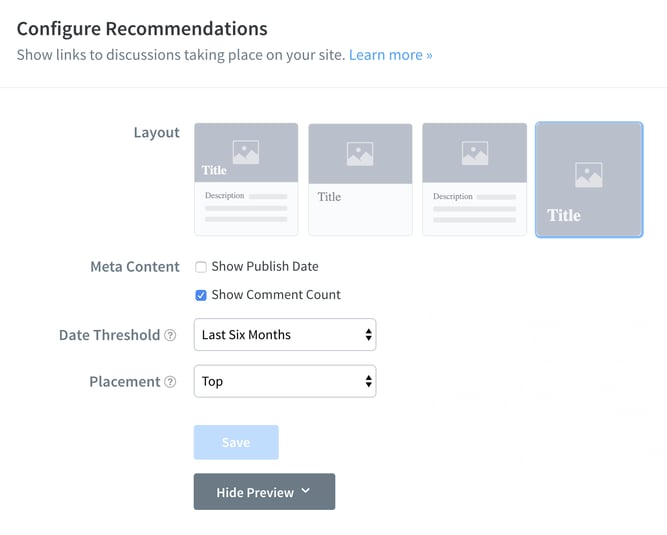 Scrolling down on this same page will also show you a desktop and mobile preview of how your new display customizations will look.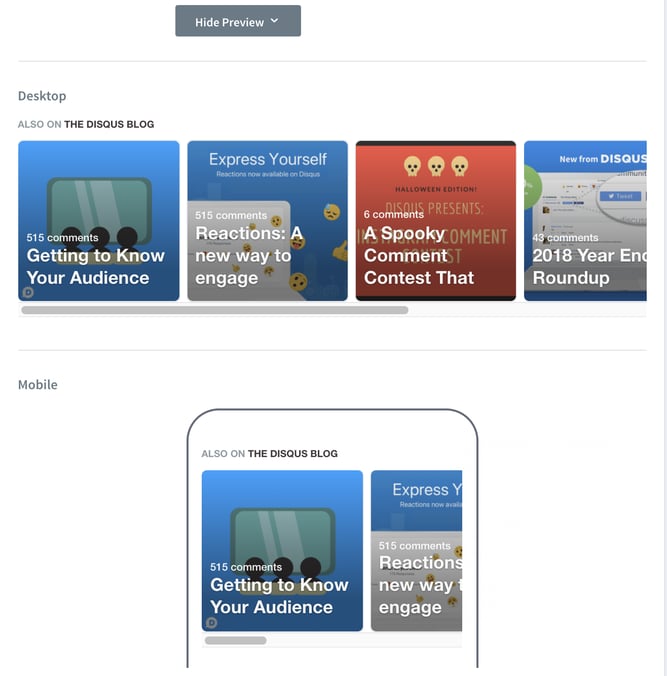 How does it work?
Recommendations will only show discussions within that same publisher site, so if you have multiple websites under one organization, it does not cross promote. Recommendations will then pull the article's headline using the title assigned to the page where the thread was created.
Our proprietary engine looks for discussions within your site and displays the ones with activity. We will only show a content suggestion with recent activity. If you do not want articles to be displayed that are older than a certain timeframe, you can set a date threshold in the settings. That way, only your newest, hottest content will be recommended! 🔥
For specific settings, questions about why an article may not be appearing in Recommendations, or more questions about functionality, we have a great knowledge base article for you here.
What do you think?
As you have probably guessed (and seen), the Recommendations feature is enabled for this post (and all Disqus blog posts).
If you have ideas or feedback about how we can make Recommendations better for publishers, readers, or both, be sure to let us know by leaving a comment below! 📝