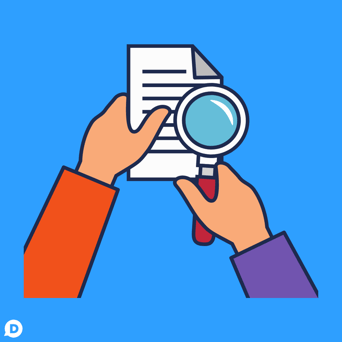 Moderating your community doesn't have to be hard, tedious work! At Disqus we pride ourselves in providing some of the most powerful and thorough moderation tools in the industry. We want to make sure that you're taking advantage of the tools that we offer, and part of that includes making those capabilities more accessible to you.
Today we'd like to announce three major advancements on that front:
Moderations Settings Reorganization - we've consolidated all settings related to moderation and organized them onto a new "Moderation" tab
New Moderation Configuration Profiles - we've curated two moderation "profiles" that make it easy to set all of your moderation settings with the click of a button!
Moderation Rules Advancements - make moderation easy with access to select moderation rules now available to all publishers
Moderations Settings Reorganization
You'll notice a new tab on the left side menu of your settings. We've consolidated all settings related to moderation into this new section for your convenience! Your moderation settings will now look like this: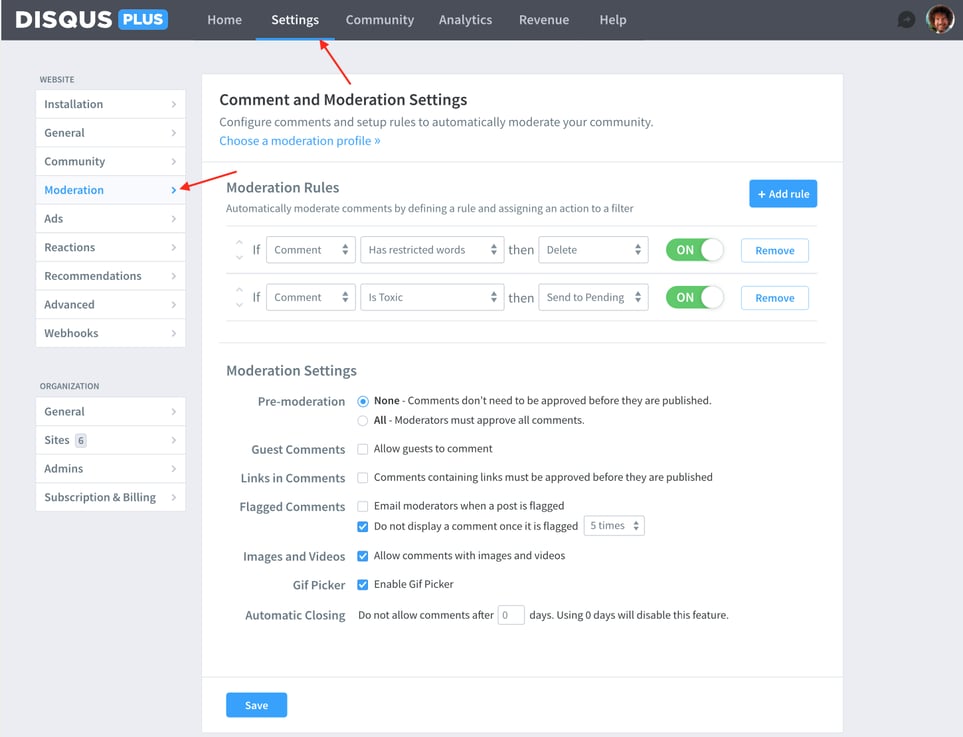 Moderation Configuration Profiles
You'll now have the option to choose from either a "Balanced Profile" or a "Strict Profile." You can choose a profile that best suits your moderation style and community, and you'll be able to modify any of the individual settings at any time. For new publishers, this will be part of your setup process, and for existing publishers, you can access and edit your moderation profiles here.
Here's what you can expect with each profile:
Balanced: Recommended for publishers looking to reduce the possibility of troublesome comments through automated moderation, while balancing the openness of conversation.
Strict: Recommended for publishers looking to aggressively reduce the possibility of troublesome comments through strict automated moderation, and limitations on who can comment and allowed comment types.
Keep in mind that if you choose either profile, but would like to tweak specific settings, you can do so under the "Moderation Settings" section. For example, if you'd like to go with the Strict moderation profile, but you'd still like to allow media in your comments, you can still select the Strict option, and then below just check off the box that says "Allow comments with images and videos."
Here is what new publishers will see as they set up their account, but can change their choices at any point after set up: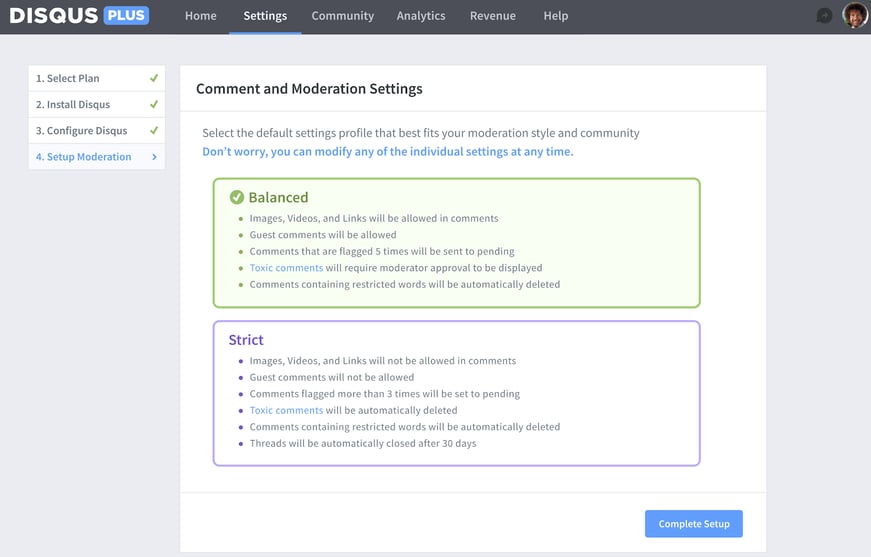 Moderation Rules Advancements
We're also thrilled to release new moderation rules! Moderation rules can be set up to automatically indicate if certain comments are toxic or identify certain types of users i.e., low reputation, reported multiple times. For example, you can set up a moderation rule that automatically deletes all comments that contain a restricted word. Previously, moderation rules were only available to our Business clients, but today we're widening the scope.
Our goal is to make moderation easy for all Disqus publishers, which is why we're introducing the following options: All publishers will now have access to moderation rules that allow them to automatically filter comments based on toxicity and comments containing restricted words.
Pro accounts will now be able to create moderation rules based on:
Comments containing links
Comments containing media
Low user reputation
User was reported at least 5x
And for each of those conditions, publishers can choose if the comment should be deleted, sent to pending, or marked as spam.
To learn how to set up your moderation rules, check out our quick tutorial below!
If you have any questions, you can learn more here, and in the meantime, tell us what you think in the comments below!
*This article was updated on November 3rd, 2020