If you don't have an ad budget, then you may struggle to reach a significant number of Instagram users, but don't worry - it's still possible to connect with them organically. Instagram is a powerful tool to get people to interact with your brand and visit your website.
But the real question is, how can you get your ideal audience to find you? Hashtags. All of the hashtags.
Hashtags are one way to grow your audience on Instagram organically, and there are several different ways to make your brand stand out by using the right hashtags.
Here are our top tips to optimize hashtags for maximum exposure.
Use Hashtags in Your Instagram Stories
Pro Tip: You can put hashtags in your Instagram Stories!
Instagram Stories with hashtags can show up in the search results, and you can add up to 10 hashtags in your story.
Hashtags can quickly look spammy, though, but there is one trick to using hashtags without ruining your Instagram Stories' aesthetics or annoying too many people.
The secret is covering up the hashtags by putting a GIF or sticker over it. And voila! Your Instagram Stories are now searchable without actually showing the hashtags.
Use All 30 Hashtags
Instagram lets you put up to 30 hashtags in your post captions, and you should use all 30! It can help you reach a new audience even further.
Some people would say it's better to use highly-targeted hashtags and only use 5-10. You may want to experiment with the number of hashtags to put in a post and take a look at the analytics to see what works for you.
You should choose hashtags that target the audience you are trying to reach. But if you can find 30 of those hashtags, why not use them?
How to Find Relevant Hashtags
There are a lot of ways to discover relevant hashtags to use for your Instagram strategy.
The first step is to type in an industry-related keyword into the Instagram search tool. It will pull up a lot of valuable information, so let's go over how to digest it all.
Use Community Hashtags
Community hashtags is a pretty broad subject, but the goal is to find hashtags that support a niche community. These can be hashtags related to your lifestyle, your specific service or product, or your location.
For example, if you have an Instagram account for your paleo food blog, you wouldn't use #veganrecipes. That's not your community. Your community is using hashtags like #paleo or #paleomeal.
You can see an excellent example of this from one of our Disqus publishers, Nom Nom Paleo, with a killer Instagram below: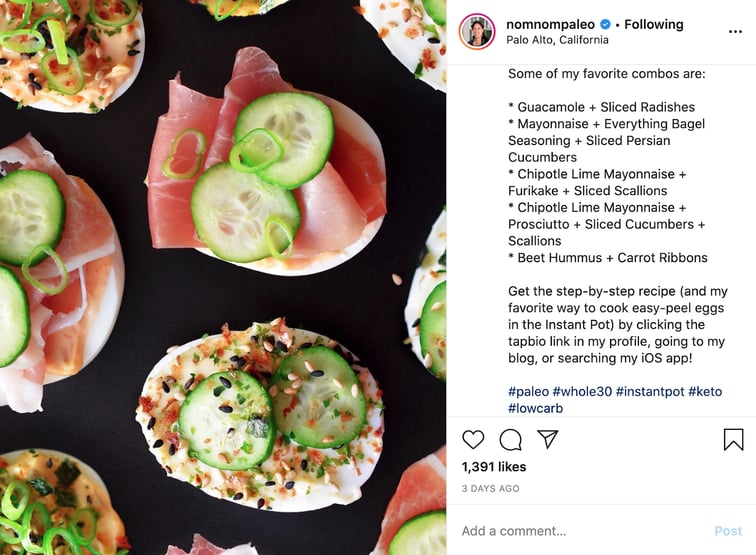 Check Related Hashtags
When you search for a keyword hashtag, you'll notice a section called "Related." This is a gold mine filled with similar hashtags that you can use to attract your ideal audience, and may even give you some future post ideas!
Check The Top Posts of a Hashtag
Why would you want to check out the top-performing posts of a hashtag? So you can see what the other hashtags are being posted alongside them! This is another simple way to expand your hashtag supply while gaining some insight into the top-performing posts.
Check Posts of Industry Influencers
Don't forget to take a look at the top influencers in your industry. You can find additional hashtags to use by seeing what they are using. Those hashtags they use might have a higher reach if they've done their research.
Check Related Accounts
While you're checking industry influencers profiles, you can also click on the downward-facing carrot button on the far right of the "Follow(ing)" button. This button will reveal a bunch of "Suggested for you" accounts with people in a similar industry. You can then check out their profiles for more hashtag research as well.
Some Other Hot Tips for Choosing Relevant Hashtags:
If it's a branded hashtag, check to see if they repost or engage with the hashtag
Find hashtags that get good engagement
Choose hashtags that have high-quality content
Think about if this hashtag community is something you want to be associated with your brand
Categorize Your Relevant Hashtags
Once you find hashtags relevant to your audience, categorize them. Separate them by brand, industry, audience, and location.
Why should you do this? Organizing these topics helps you cover all categories when you choose hashtags for your post.
Let's talk about what each category means.
Brand: These are hashtags that are explicitly promoted by a brand. Think #JustDoIt for Nike or #OptOutside for REI.
Industry: Hashtags about your industry go here. For example, if you sell eco-friendly products, then hashtags like #MinimialWaste or #ZeroWasteLiving are part of the industry category.
Audience: Use hashtags that you know your audience is using. They are more likely to interact with those hashtags. For example, if you are targeting creatives, you would use hashtags like #MyCreativeBiz
Location: If you have a physical location that you are targeting, then use the local hashtags! If you're in San Francisco, you might want to use hashtags like #ilovesf or #sanfranciscolove
Choose a Mix of Hashtags
Now when I say "mix," I mean choosing a variety of hashtags that have a small to a large number of posts.
Instagram continuously changes its algorithm, but you might achieve greater reach by not only choosing popular hashtags but also using smaller and more engaged hashtags.
Consider choosing 20 hashtags with under 100,000 posts and then 10 more hashtags with over 100,000 posts but under 500,000 (Don't worry, Instagram tells you how many posts that hashtag has when you type it in).
I would avoid choosing hashtags with millions of posts. They are too popular to get significant reach and will almost instantly be drowned out by other posts using the same hashtag.
Of course, you should experiment to see which hashtags get the best results for your Instagram marketing strategy.
But How Can You Tell Which Instagram Hashtags Are Getting Results?
Good question! You can only track Instagram metrics if you have a business profile. Even then, it will only show you how much reach you earned from all of your hashtags - not which specific hashtags gave you views.
You'll need to get an advanced Instagram analytics tool to find out which hashtags are working best for you.
Some options include:
Later (Free and paid versions)
Sprout Social (Paid)
Social Insider (Paid)
Tracking the success of your hashtags is crucial to discover if you are reaching your organic reach goals. It can also help you decide which hashtags to toss out or keep using.
Pro Tip: Don't have the time to research hashtags? Consider using a hashtag generator. They can find keyword-related hashtag options. Some free resources include Seekmetrics and Kicksta.
#Conclusion
No ad budget? No problem.
Hashtags are still killing it with growing your reach on Instagram. The magic formula lies within finding the niche and engaged hashtags that relate to your business.
What are your thoughts about hashtags? Are they still growing your Instagram following? Let us know in the comments.