Digital publishers love people that notice their work - I mean, who doesn't? There are "creators" that will create UGC for your brand. The "engagers" that will share your posts, and of course, the "commenters" that keep your online community alive.
But every online community has people that don't participate. However, that doesn't mean they aren't watching. Lurkers are actually a huge part of your community even if they aren't commenting.
But what are you supposed to do with lurkers?
In the online world, a lurker is defined as someone that sees content but doesn't engage with it. This doesn't mean that they don't like the content, but they don't necessarily feel the need to participate either.
You should consider your lurkers when creating your content marketing strategy, they can play a critical role in growing your online community.
Lurkers are important to your strategy because they still show up to consume your content. If you continue to deliver high-quality content, they may eventually reach out and engage with you!
The most recent stats suggest that 26% of Americans never post anything on social media. So when you're measuring your social media success with engagement rates, you are probably not including a large number of your audience that is viewing your content.
There are a few ways to encourage lurkers to become more engaged with your content. Here are some ideas to consider implementing into your strategy:
Have a clear call-to-action (CTA):

Make it simple for a lurker to engage with you by telling them what you want. Asking them to click a button is a lot easier than writing a comment.

Host a giveaway:

There's a reason why giveaways are often the most engaging piece of social media content. Lurkers need an incentive to engage with you and giving them something valuable is a great way to do that.

Recognize your audience:

People love responses. When you consistently respond to your online community, lurkers will notice. This makes them feel more comfortable with participating and getting involved.
Welcome your lurkers:

Sometimes lurkers will engage if you ask them to. Host a special event asking lurkers to introduce themselves to the community.
Many businesses have succeeded in getting lurkers to engage by hosting special events for them. A great example is from one of our favorite publishers, SpoilerTV, and it's annual "Stop Lurking Day" for its online community.
This is an excellent opportunity for lurkers to introduce themselves and receive a warm welcome from the community.
Another example is DigitalMarketer when it ran "Love Our Lurkers Week" in its Facebook group. They encouraged lurkers to engage with certain posts throughout the week and even hosted sweepstakes to encourage lurkers to participate.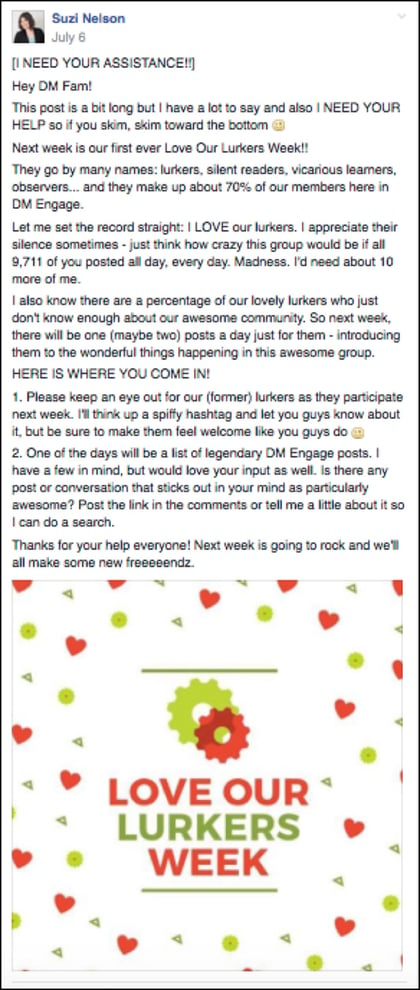 The result? 11% of the community created their first post, and 17% made their first comment. That's a huge jump in engagement! 🔥

If you want to measure how lurkers are interacting with your content, here are a few stats to look at:
Visitor count (

Disqus

analytics can help you determine if they're new or returning visitors)

Time spent on the website
Page views

Click-through rate

Email open rate

"Saved" content on Instagram
Lurkers may not consistently engage with you, but they are still interacting. They can still read your blog, consume your social media content, and refer you to other people. You should consider targeted engagement strategies and above all, continue creating high-quality content that they will want to consume.
Would you call yourself a lurker? Or are you more of Lurker, Commenter, Engager, or Creator? Let us know with the reactions below!