You've probably been on a landing page if you have ever signed up for an email newsletter or clicked on an online ad.
Landing pages are standard practice in marketing. Let's talk more about why they're important, what they are and how to create one.
What is a landing page, and how do they work?
A landing page is a separate web page that primarily focuses on one goal. They are usually part of an advertising campaign or content marketing funnel.
The goal is typically to convert a reader into completing an action. An example of a goal would be to convert a reader to become an email subscriber.
The step-by-step process for creating a landing page
Determine the purpose of your landing page
A landing page should only have one call to action. Including a second or third goal will only confuse the reader about what to do.
Determining the landing page's goal defines the call-to-action (CTA) that you want your reader to take.
Here are some common goals for landing pages:
Increase email subscriber list
Promote a product or service (this is also known as a sales page)
Collect donations
Have people sign-up for an event
Once you've decided on your goal, you can create a CTA that supports it. For example, if your goal is to get people to sign up for a webinar, your landing page should include a form that lets them enter their name and email address so you can collect their information.
Choose your tools
Where do you create a landing page? A landing page may sound technically tricky, but some options are easy to use. Here are some tools to consider building your landing page on:
Your website: You can build your landing page on your website. Simply hide it from your navigation bar, and you have a landing page that you can use. This may be a great option if you have a developer on your team or someone tech-savvy.
Check your email marketing service: Many email marketing platforms offer landing pages as part of their services. This may be ideal if the landing page's purpose is to build your email list since it's usually already connected to your email tool.
Use Dedicated Landing Page Software: LeadPages, ClickFunnels, and Instapage makes it easy to create and publish landing pages. They have drag-and-drop web builders and several features to create a highly-converting landing page.
Write an eye-catching headline
Your headline may be the most crucial aspect of your landing page. If you don't capture a reader's interest with a headline, there's a high chance that they won't continue reading.
So what makes a good headline? There are a few things a headline can do to persuade your audience to keep reading.
A headline may interest a reader if it can:
Create curiosity
Address their desires
Remove their objections
Pro Tip: Some marketers like to get creative with their headlines. This can be a fun way to get your audience to notice you, but don't get too clever. You might lose the message, and your audience won't understand it.
Write the copy
How long should your landing page be? It depends on the purpose. Let's take two common landing page uses and explore what is typically on them.

1. When your goal is to increase email subscribers
Many businesses will offer a subscriber a free ebook or another free lead magnet in exchange for their email address.
This is a low-commitment scenario. You're not asking for money, and you are giving people something valuable in return.
Since it's low commitment, you can have a short page. Share the benefits of what your lead magnet provides and insert a form for them to sign-up to receive it.
You could also add some social proof to the page to demonstrate that you are a trustworthy business. You could show testimonials, the number of people that follow you on social media, or publications that have featured you.
Let's take a look at an example from Zeta Global. Not only does it have a testimonial, but they also have the logos of companies that have used their services. This shows that many brands trust them and establishes credibility.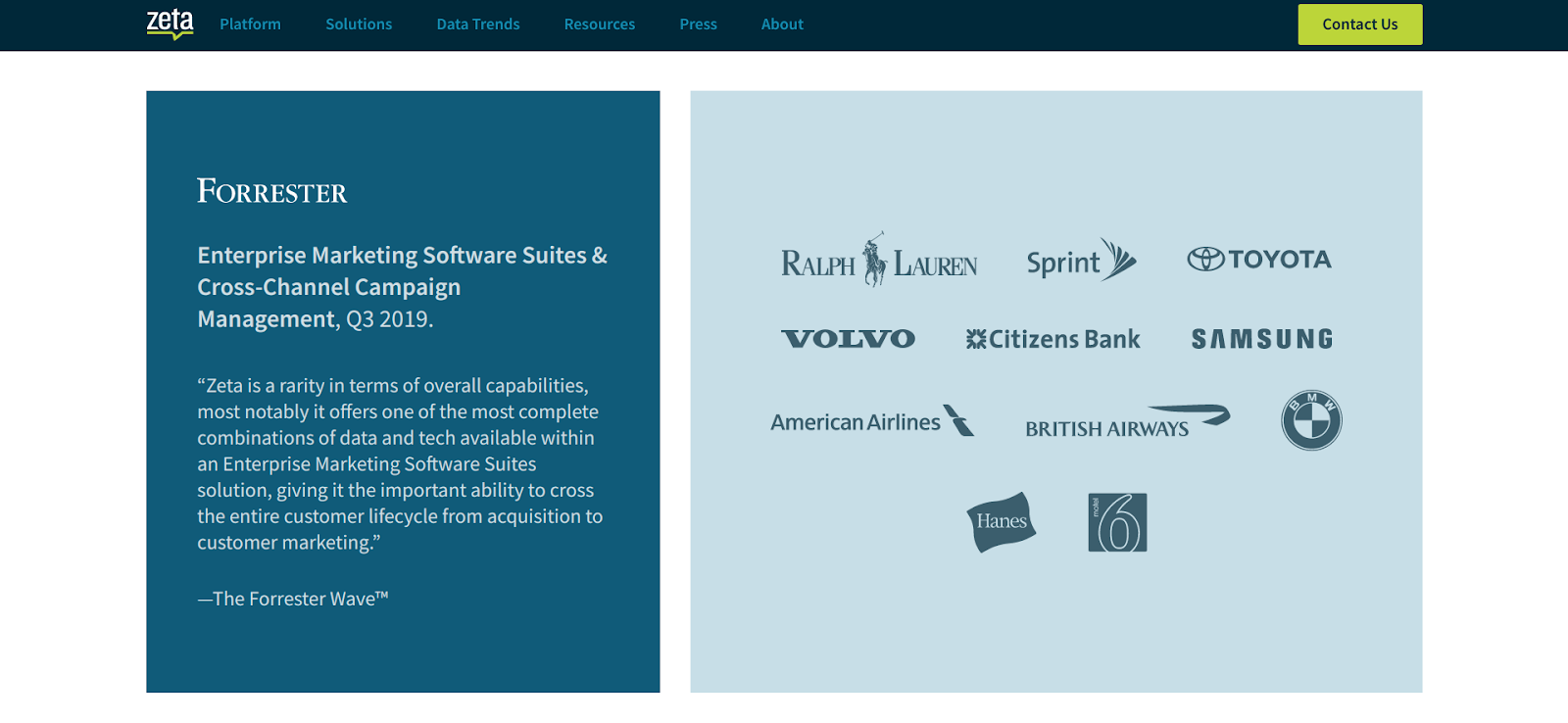 2. When your goal is to sell a product or service
This landing page is asking for more commitment from a person since you are asking for money. They can be longer, especially if you are selling something expensive. The more pricey an item, the more you will have to convince a reader that it is worth purchasing.
Like the previous example, you'll share the benefits of the product or service and add social proof to this landing page.
You may also consider adding a video to your landing page. Studies suggest that a video can improve conversions by 86%.
If it's appropriate for your product or service, you may consider adding urgency or scarcity to your landing page. For example, if you are running a special promotion, you might want to add a countdown timer showing when the promotion ends. This can encourage a person to act now since the promotion won't be there later.
Here's an example from LeadPages about what a countdown timer can look like on a landing page.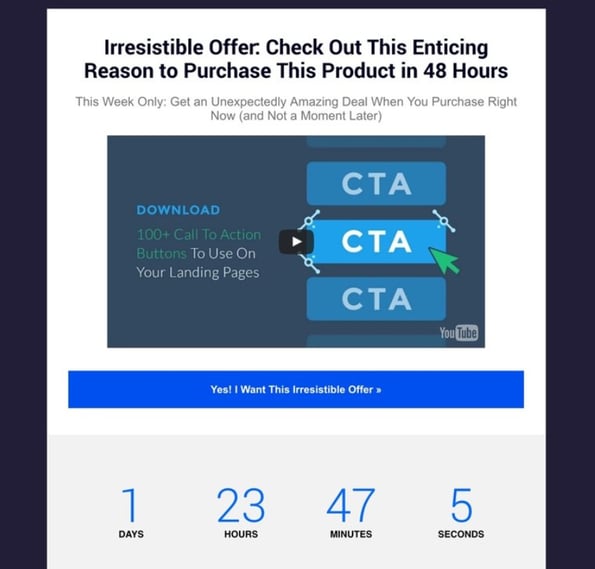 Add analytics
As with any part of your marketing strategy, you need to know if your landing page is converting. You can add Google Analytics (a free version is available) to track the data. Analyzing the data can help you determine if it's a successful landing page or if you need to adjust your strategy.
Landing page design tips
A landing page should be simple and not too distracting for a reader. There are a few tips to consider when designing a landing page.
Use only one CTA: Don't confuse the reader. If your goal is to get the reader to sign-up to your email list, don't make your social media links the star of the show too. Only add the form that lets them subscribe to your email newsletters.
Check mobile view: 58% of site visits are from cell phone devices. If your landing page doesn't look good on mobile, your visitors may leave without giving you a chance. Make sure that your landing page is functional when viewed on a cell phone.
Keep it simple: Feel free to use your branding, but don't overwhelm your reader with distracting images or animations.
Summary
A landing page is often needed to successfully run an advertising campaign or further the content marketing funnel. The focus on one goal can potentially increase your conversion rate when you do it the right way.
What questions do you have about landing pages? Let us know in the comments.