If you've ever needed help building your audience or increasing engagement with Disqus, we have some support announcements below that may interest you. We've been hard at work improving our tools for both paid and free customers but our goal remains the same: to help you succeed in a volatile and uncertain publishing landscape.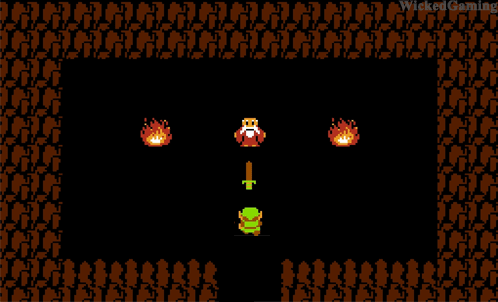 That's a big challenge in 2018... but you are not alone! Check out the shiny new tools that enable you to get fast, friendly, and effective support from our team — shout out to our friends at Intercom who made this possible with their delightful software.
💬 Live chat for Publishers
If you have Plus or Pro, you can expect faster realtime chat support over at disqus.com/support. After initiating a conversation with us, we'll recommend some helpful knowledge base articles and will start working on getting you an answer. In most cases, we provide a resolution in under an hour. Drag and drop files, screenshots, and GIFs and we'll be notified immediately. When we are not at the keyboard, the transition to email is seamless so you'll be notified as soon as we reply — no need to keep the chat window open if you need to get back to other work.
🤖 Bot Power
Your first reaction might be "run for the hills! Bots will destroy everything that is holy in this world!" but don't worry, we're taking a balanced approach within Intercom's "operator bot". Bots help scale up and some repetitive transactional tasks such as routing you to the right support person or asking for your email address when you're not logged into Disqus. These small changes translate to a faster support experience for you. As it turns out, humans still prefer to talk to other humans! So don't worry, we're still on the other end of every conversation.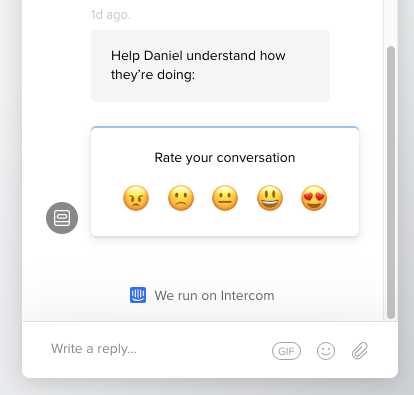 Here are some of those nitty-gritty support tasks you may see "Operator Bot" helping with:
Suggesting of relevant help articles

Directing you to the right team by asking if you are a commenter, publisher, or developer
Asking you to rate the conversation so we can improve
Telling you when we'll be back in the office
🥡 Self-service apps:
Intercom also empowers us to add more apps directly into our support home screen so that you can submit your own feature requests directly to our product team (Canny) or be notified during the rare occasion that Disqus has system-wide downtime (Statuspage).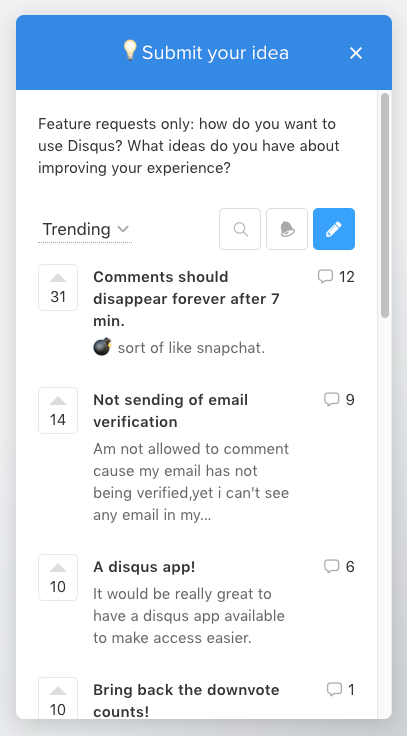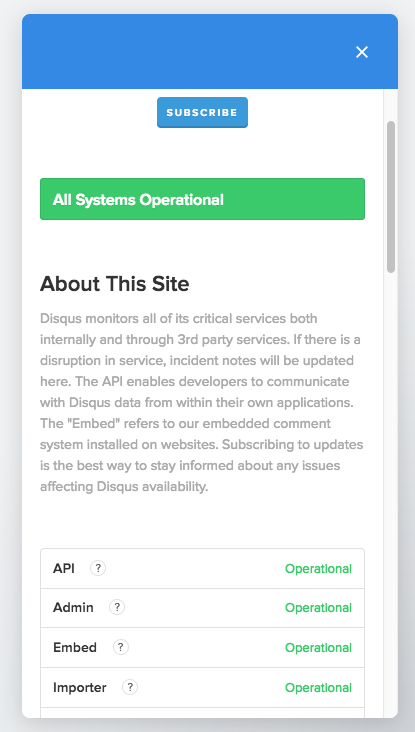 Want to submit your own crazy feature request? Go open the chat messenger and look for 💡Submit your Idea at the bottom. Your suggestion could make it onto our product roadmap.
👩🏻‍🎨 Redesigned Knowledge Base
For the rest of our community, whether you comment on websites using Disqus or you run a small personal site for free, head over to help.disqus.com for articles in our Knowledge Base. Use the reaction buttons at the bottom of any article: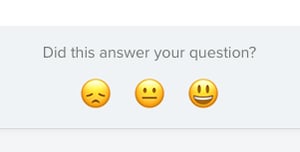 Anyone can let us know what was helpful, and what may have missed the mark. If you react negatively, you can send us feedback in more detail. We monitor and read all messages so that we can improve our articles and follow up with you if necessary. Whether you have questions about Disqus or just want to send us some feedback, we want to hear from you.
🔎 Improved search

Our old search functionality was admittedly sketchy at times. Just like our customers, our support team uses the search bar at help.disqus.com dozens of times per day and it was notorious for returning 0 results at unexpected times… we've fixed these issues with the help of Intercom whose underlying search functionality seems precise and lightning fast. Go ahead and give it a try here, by searching "spam" or "customize".
🗂 Reorganization of articles
You'll also notice a bit of a design upgrade. We've reorganized our content into topics and subtopics that will help you navigate over 200 articles of help content. For example, check out our "Community Tips" here https://help.disqus.com/community-tips for the basics of getting started, as well as some more advanced tips on building identity and audience.

Have questions? Let us know in the comments below, we look forward to getting you the right type of help.