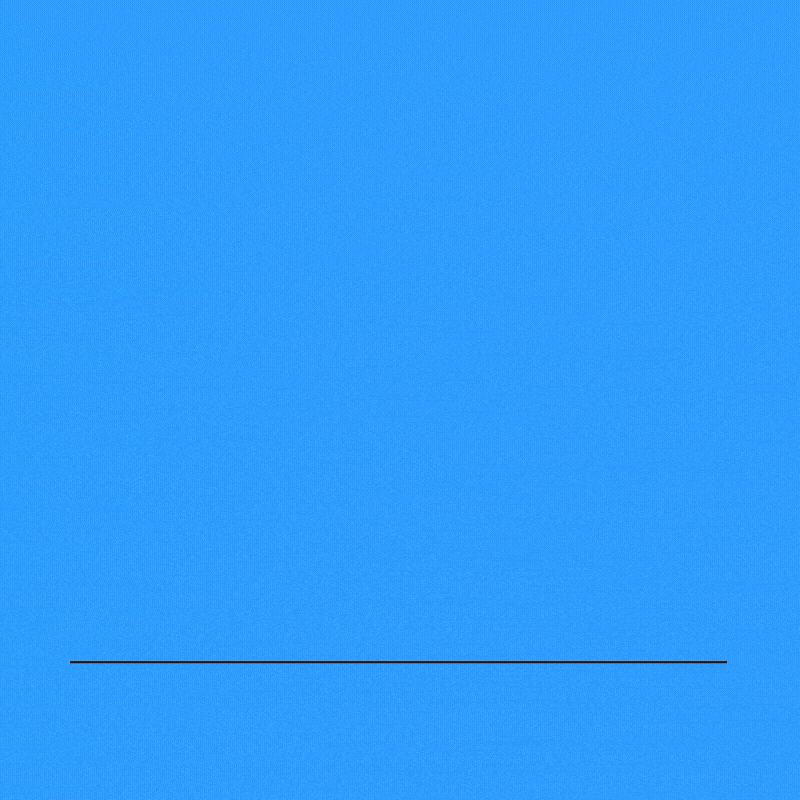 Content creation for social media may be one of your biggest time consumers. After all, every content creator is familiar with drawing a blank while trying to come up with an Instagram caption or even just struggling with those creative juices.
Don't worry, though. We whipped up 30 ideas for your social media posts because sometimes you just need some good old fashioned inspiration. You'll surely find something for your next caption.
1. Highlight Your Fans
Your fans love being featured on your social media profiles. Retweet their praise or have a "Hall of Fame" for the most loyal fans. They will appreciate the recognition, and other supporters will post about you hoping to get featured. You may even start a #trend!
2. Host a Contest
Have your readers enter a contest by sharing something integral to your brand. Do you share recipes? Have readers choose a recipe to make and share the finished meal on their social media profile. Then randomly pick a winner from those that participated. This will not only engage people in your brand but get people excited to collaborate with you!
3. Introduce Your Team
People love to get to know the people behind a company. This helps build the "Know, like, trust" factor. Write up a quick bio on one of your team members and share a picture of them. This also works with team pets. Have a dog that frequents the office? We want to meet them!
4. Share Behind-the-Scenes Content
Show your followers what it's like to be behind the scenes. You can use Instagram Stories to take your followers through the process of creating your content or product, or maybe just what a typical day or happy hour looks like with your team.
5. Post About Your Newest Blog Post/Podcast/Video
Got new content? Then tell social media about it! You can take this opportunity to make even more creative content such as taking a quote and making it into a graphic. Direct people to your content, so they know it exists. After all, when people hear information, they'll remember only about 10% of that information a few days later. However, if a relevant image is paired with that same information, people retained 65% of the information three days later.
6. Host a Giveaway
Similar to a contest, but followers don't have to create something to enter. A giveaway can be as simple as asking your followers to share a social media post or tag friends in the comments.
7. Answer FAQs
Every business has a list of questions they get asked regularly. Take the time to answer some of these questions on social media and show your appreciation for people reaching out to ask you.
8. Poll Your Audience
You can use the poll feature on Twitter or Instagram Stories. This is a fun way to get your audience engaged with minimal effort from them.
Pro Tip: Instagram also has quiz options to test your followers on their knowledge of your brand or industry!
9. Share Milestones
Did you recently hit 10,000 likes on Facebook? Share it with your followers. They want to celebrate your success with you.
10. Post Engaging Questions
Asking simple questions can get people to participate. Even asking, "Are you an introvert or an extrovert?" can prompt people to comment and engage with you. Plus, you get to learn more about your audience at the same time.
11. Promote Your Offer
Your social media should focus on giving value, but it would be a crime not to promote your offers. Your free and paid services are essential for your audience to know, and if you run seasonal promotions, even better.
12. Make Custom Memes
This will only work if this fits your brand's tone (I'm looking at you, Wendy's). But memes can be a successful piece of content that can engage your audience in a light-hearted way.
13. Post Inspirational Content
Inspire your audience by sharing stories from people. For example, an art museum could share inspirational stories from the artists they feature. The Carnegie Museum of Art recently posted a picture of one of their paintings with a link to a guided breathing meditation.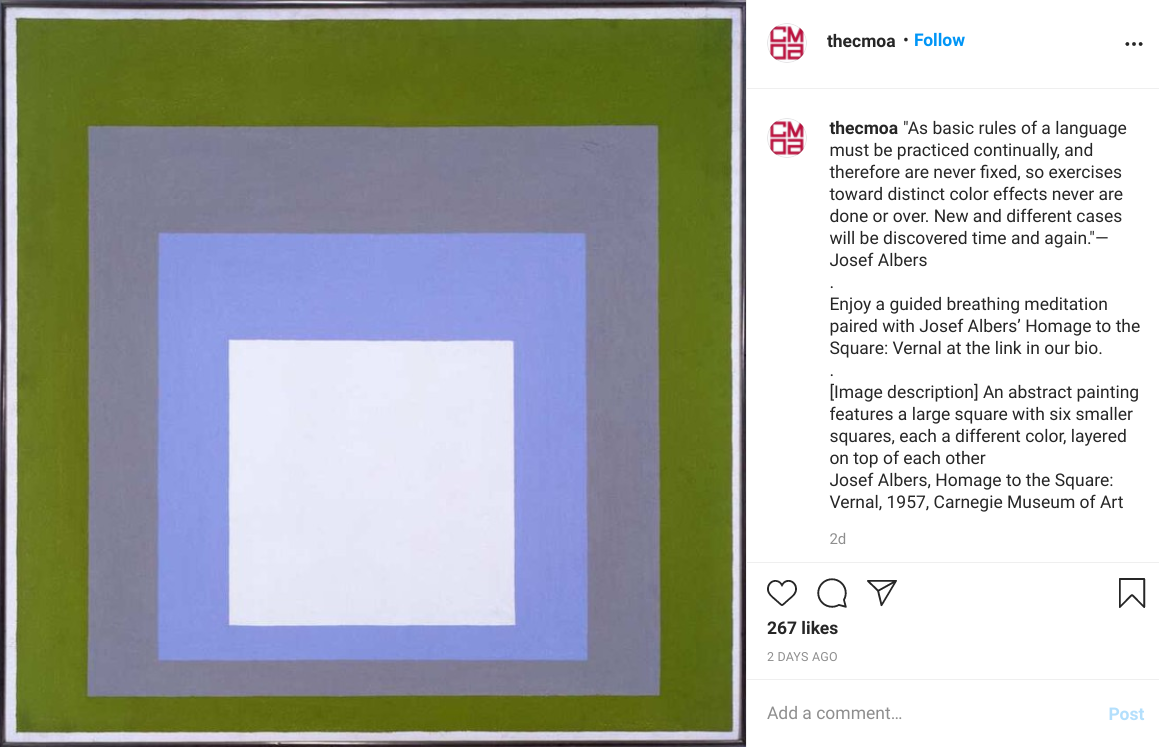 14. Share a Quote
Quotes are a great way to connect with your audience. Make a graphic of a quote and write a relatable caption to boost engagement. Check out Disqus's #WisdomWednesday social series for some great examples!
15. Share Reviews and Testimonials
If people love your content or products, share it. This is terrific social proof and shows your following that you create valuable content and experiences.
16. Repurpose Social Media Captions Into Videos
Do you have a lot of educational social media posts? Repurpose them by creating videos discussing those ideas further.
17. Tips & Tricks
Share "how-to" tips. If you're an artist, you can quickly teach someone how to draw a flower in a brief tutorial. There are a lot of options, no matter your industry - and hey, sometimes those go viral!
18. Get Creative With Holidays
Is it National Pet Day? Ask your team to share pictures of their pets and then encourage your followers to do the same. This is a personal way to connect with your audience.
19. Create Helpful Infographics
This is an excellent opportunity to visualize your educational content. Make a graph, share statistics, or create a checklist. Posting this on social media could make people stop their scrolling and read it.
20. Have a Guest Influencer Take-Over
Have an influencer take over your social media profiles for a day. They can offer free training or answer questions from your audience. This could lead to you being exposed to a new audience.
21. Host an "AMA" Session
Ask Me Anything (or "AMA") sessions are popular ways to interact with your audience. Have your followers ask their questions, and you can answer them in a live video or with IGTV.
22. Share Quotes from Published Content
Just because a blog post is eight months old doesn't mean you can't share it again. Promote older published content when it's relevant and timely.
23. Talk About What Your Team Is Working On
Is there something new happening in your business? Document the process on social media. Giving your audience a sneak peek into what's going on will make them feel included and excited about what's new.
24. Introduce a Branded Hashtag
Having a specific hashtag for your brand is one way to stay engaged with your audience. You can comment and interact with everyone that uses that hashtag. For example, Gridfiti uses #gearspread.

25. Discuss the Latest Trends
Keep your audience updated on the latest trends. If you're an interior designer, share what styles are trending or how to decorate.
26. Share Your Business Story
How did your business start? Sharing your business story gives your audience insight into why your business matters to you. This is an opportunity to build a genuine connection with your following. You can do this in chunks, which makes for more social post ideas.
27. Repurpose Your Best Content
You probably keep track of your most popular content. Don't be afraid to re-share it with your audience. You most likely have a lot of new followers that haven't read your old content but would love to.
28. Create A Challenge
Remember the ALS Ice Bucket Challenge from a few years ago? What about the TikTok dance challenges? This could be a fun way to go viral or raise money for charity. Create a challenge that will inspire others to share it with their friends.
29. Shout Out to Influencers and Peers
Is there someone in the industry who is killing it? Give them a shout out on social media and share their content. This could grab their attention and expose them or their audience to your business.
30. Follow the Day's Hashtag
Tuesday is great for #TuesdayTips, and Thursdays are for #ThrowbackThursday. Use the day of the week to help you decide what to post that day.
Ready to Create?
You have no excuses now. You're probably feeling inspired and have those creative juices flowing. Pull out your content calendar and start filling in empty dates with content ideas.
Did we miss any ideas? Let us know other social media content ideas in the comments!