Link building is an SEO strategy that focuses on increasing the number of links to your website. These links are known as inbound links.
Link building helps you establish authority and eventually increases your SEO ranking. Of course, it's essential to focus on building high-quality links and not looking like you're a spam website, but let's look at some popular link building strategies that you could implement in your business today.
Create high-quality content that people will link to on their website
Educational and highly-informative content is one way to ensure getting inbound links. Writers and marketers could use your content as a resource for their articles. The source link is a valuable source for link building.
Here are some content ideas that often get inbound links:
Original research
Listicles
Guest blogging
Is guest blogging dead? Although there have been debates, guest blogging can still help you build links if you do it right.
The biggest issue with guest blogging in the past is that people wrote spammy posts filled with links. Nowadays, a successful guest blog post includes high-quality content and sparingly uses links.
Pro Tip: LinkedIn is a great place to network for guest posts.
You'll want a guest blog post that is a win-win for you and the publisher. They will get audience-pleasing content, and you will get inbound links and exposure to a new audience.
Become a source in published media
Getting a quote from an influential person is a high priority for many journalists. If you can get a high-ranking team member to make a quote in an article, you could get a link to your website.
But how do you do this?
Besides building a direct relationship with reporters, you could also use the Help A Reporter Out (HARO) tool.
HARO connects reporters to sources that they need for their articles. The reporters put out an alert, and you can respond if you match their inquiry. They typically will say something like "Looking for an expert in XYZ to comment or contribute a quote on XYZ."
There are free and paid options, so it's a great tool, no matter your budget. Additionally, you can have these inquiries sent straight to your inbox, so there is almost no outside effort needed to find these opportunities.
Influencer marketing
Love them or hate them, influencers can provide some inbound links to your website. One way to do this is to have an influencer review your product on their blog. This mainly applies to eCommerce sites, unless you both produce content and sell products (I'm looking at you, Man Repeller).
This will lead them to link to your website, and, hopefully, sending some interested buyers your way. Nearly 37% of the 18-34 age group say they trust brands more when exposed to influencer's sponsored posts.
Influencer marketing is a 2-in-1 deal as you will get more inbound links and increase brand awareness.
Blog comments
Leaving comments on blogs is a long-term strategy that is more focused on building relationships. If a blogger or marketer notices that you are a top commenter, they may become more interested in who you are. Take this example from Maurizio Leo, site owner of The Perfect Loaf and blogger Justin Lam: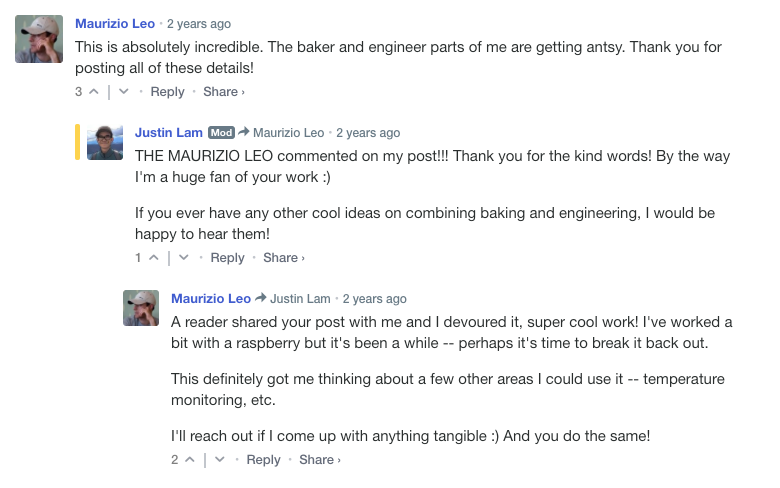 Plus with Disqus, oftentimes you can see if a commenter has their own website or is a frequent commenter on other similar sites to yours. They then may link out to your website or ask you to contribute to their blog.
You'll want to focus on blogs that are in your niche and want to develop relationships with the publisher for maximum success.
Final thoughts
Link building, like all SEO strategies, takes some time and effort to see results. However, it's an effective way to boost authority, build relationships, and rank higher on search engines like Google.
The next step of implementation is to evaluate your current status. Are you guest blogging? Have you built any relationships with publishers, influencers, or reporters?
Use your evaluation to build a link building strategy that works for your business.
Let us know in the comments if you are using any of these link building strategies.