The only thing constant in life is change. And we know that publishers have been experiencing a ton of it in the last few years.
From third-party cookie deprecation (whenever that actually happens) and changes on major social media platforms to declining ad spend due to economic uncertainty, publishers must pivot their strategies to keep producing quality content that makes money.
We've heard publishers' pain points loud and clear at Disqus. So, we've worked hard to enhance some of our features to drive even more value for publishers than ever before. Keep reading to learn what's new, what's hot, and what's in store as publishers continue navigating what we can only describe as a dynamic digital domain.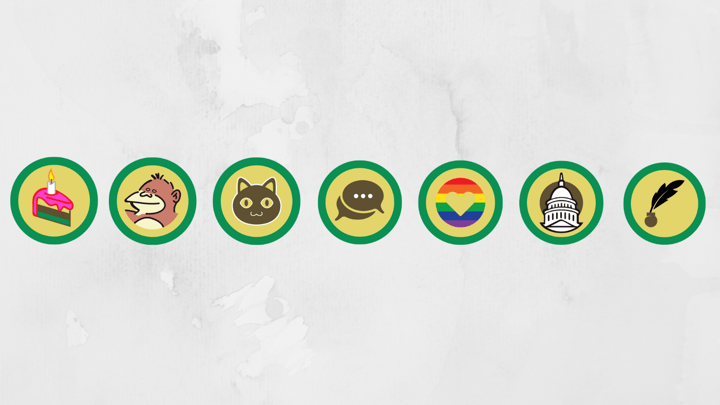 Community Badges
Everyone wants to be loved, right? So we've created a new way for publishers to distinguish their more prolific contributing community members: badges. Publishers can apply badges—which appear next to a user's name and are visible universally on a user's profile—based on meeting the target number for comment upvotes, comments, and featured comments. Moderators can also add manual badges directly to a user's account.
This feature is only available via our Pro and Business subscription plans.
Advanced Moderation
We live in some wild times regarding toxic internet dialogue, trolling, misinformation, and disinformation. Disqus has revamped its moderation capabilities to keep this garbage from quality publishers' sites.
Our Advanced Moderation tooling is powered by artificial intelligence to better detect and banish spam and toxicity. It provides more specific categorization and controls to your site's comments, allowing you to remove objectionable content with heightened precision and automation. Publishers can restrict or permit each category independently and apply multiple categories to a single comment. Within each category, comments are also graded based on severity.
Comments will show the category and severity ratings regardless of whether an automated rule removes them. These gradings will appear in tags on the comments in the comments stream of your Moderation Panel. Additionally, publishers can apply moderation filters to view only comments matching one or more of the content categories.
Advanced Moderation is available with our Pro or Business plans.
Embed redesign
Users spoke, and we listened. We've incorporated your feedback to give the Disqus comment embed a cleaner, modern, and more intuitive feel that integrates natively into publishers' websites and improves the commenter experience. Some of our enhancements include:
Bigger avatars for greater viewability, new looks for upvote/downvote and Favorite Discussion icons, and larger fonts for display names and comments

More seamless integration between our comment section and the visual style of our publishers' websites via greater incorporation of the publisher's color palette into various design elements

More visible embed sort order option for greater ease of use, repositioned social share options and Privacy Policy to decrease clutter, and Featured Comments switched to appear down beneath the postbox to make leaving a new comment the top priority

A button for the Comment Policy box that commenters can click to confirm that they've read and agreed to the terms

New formatting for Reactions and Custom Reactions

The ability to follow other users directly from the comment embed
The old embed functionality still stands—it just looks better. But if you prefer the previous look and feel, you can toggle back and forth between the old and new designs.
Better monetization and revenue-sharing programs
We know you work hard for the money. So we've made it easier to earn it through us. Disqus offers generous revenue-sharing arrangements for all ad-supported publishers.
Our ads program unlocks exclusive inventory inside your comments section, targeting your most engaged audiences with high-quality, contextually relevant advertising. Disqus advertising is highly configurable, allowing publishers to choose from several ad positions and types that integrate seamlessly into their sites.
But wait, there's more! We recognize that some publishers want to retain access to the advanced features available via our paid, ads-free plans but also want to continue earning their share of Disqus ad revenue. So, we now offer boutique ad programs—for FREE. Eligible publishers can use Disqus's most powerful tools while opening up a meaningful new revenue stream. In addition, our monetization capabilities extend to a full-service supply-side platform (SSP) that connects publishers with our vast brand and advertiser partnerships network to help monetize more effectively outside the Disqus embed.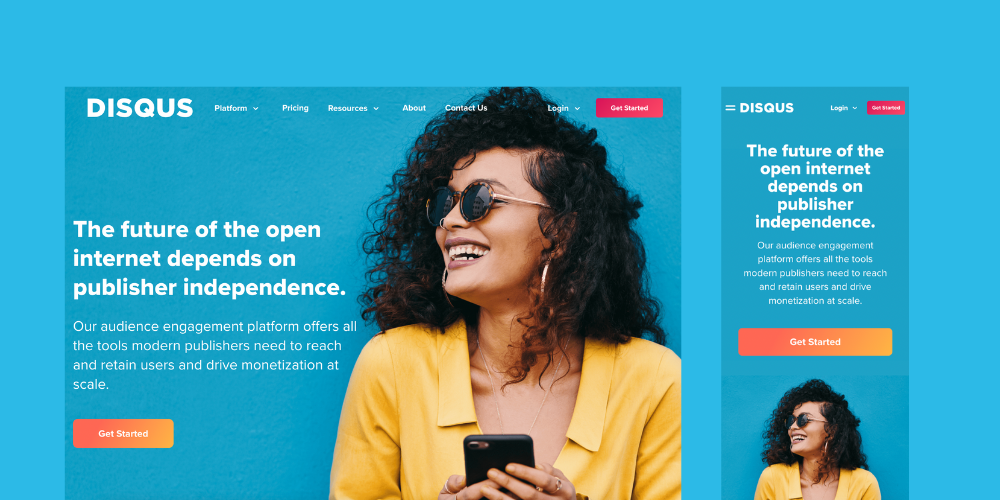 New website, who Dis?
We'll be direct here: We don't expect publishers to trust us if we have a sub-par website. That's why we've revamped our site—so publishers can see that we know what we're talking about when it comes to maintaining engaging content. Not only did we jazz up the design and navigation, but we've made what we offer and how publishers benefit from it much more straightforward. Our new look allows us to spotlight all of these features—and more—so that visitors can stay up-to-date on essential product developments and information.
Website upgrades include:
More intuitive site navigation

New platform overview pages highlighting our product's most critical features

Updated About, Pricing, and Contact pages with more information

A better layout and visible content categories on our blog

Streamlined login experiences for existing users
The times have changed, the digital publishing landscape has changed, and our product has evolved right alongside it. If you're looking for more content engagement and monetization, you've come to the right place at Disqus. Let's have a chat.