Seventy million new blog posts appear every month on WordPress alone. That's almost 27 blog posts published every second!
Less than 10% of those content pieces get traffic from search engines, but that's still a lot of content to compete with on SEO.
Let's talk about what your SEO strategy should look like if you want to stand out from the crowd.
Why Your Audience Is More Important Than Keywords
Google is constantly changing their search engine algorithm, and they are always looking for ways to improve the searcher's experience.
This has led to an exciting evolution over the years. Instead of Google looking for the same keywords that the searcher was using, they started focusing on searcher intent.
Searcher intent is WHY someone is conducting an online search. Google will pull up sites they think will have the answer for the searcher.
If you want to appeal to Google, you need to think about your audience's needs first.
Let's go over an example.
If someone searches "best restaurants in San Francisco," these are the top results.

Google infers that the searcher is looking for a list of best restaurants in San Francisco to make a comparison of the best places to eat. They don't necessarily show individual restaurants' websites claiming they are the best restaurant in the area.
So if you're a restaurant in the San Francisco area, you won't want to optimize for the keyword "Best restaurant in San Francisco." This will not get you on Google's first page because it doesn't match the searcher's intent.
Instead, you should consider focusing on niche keywords that describe your restaurant. For example, a pizzeria located in Union Square could use the keywords "pizza restaurant San Francisco Union Square".
Google then infers that the searcher is looking for a specific restaurant in a specific area. Then you can see that individual restaurants start to show up on the first page of Google.

Why You Should Use Keywords Today
Keywords are still needed, even if they aren't the most crucial search engine ranking aspect. Google will always scan your page to determine the main topic of your article. But keywords aren't king anymore.
Instead of inserting as many keywords as you can in a blog post, you need to start creating content that matches your audience's needs, wants, and desires.
Pro Tip: Want to learn how to write with your customers in mind? Check out our post "Why Customers, Not Keywords, are the Key to a Successful Content Marketing Strategy".
How to Do SEO Research for Your Blog
There are a few ways to determine what your audience is searching for online. Let's go over the do-it-yourself version and then discuss tools that might help you.
For example, a personal development blog can cover various topics, but Google can help you find the topics that interest your audience the most.
Google includes two components that show what other people are asking. The first is the "People also ask" section.
By typing in "personal development", these search results show up: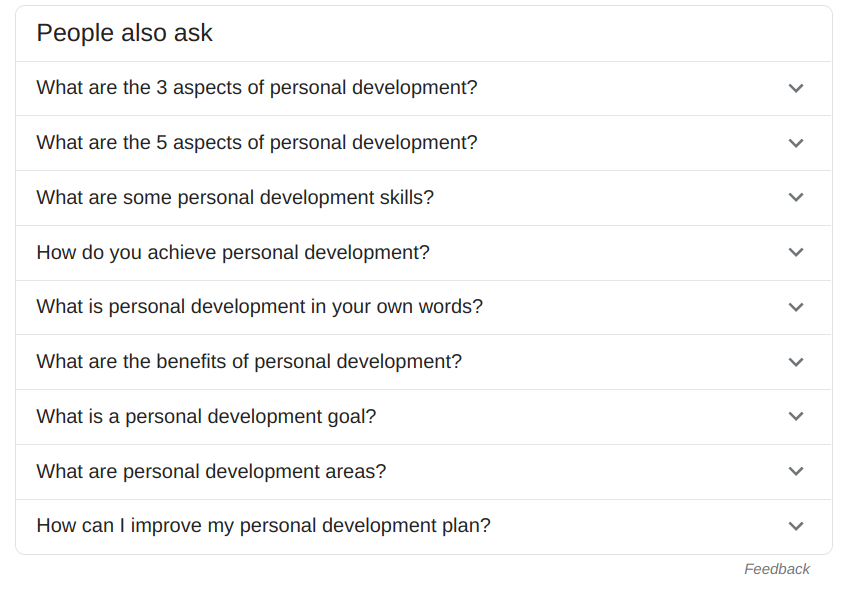 This list of questions can provide topics to cover in your blog. You can also scroll to the bottom of the page to find the "Searched related to" section for more topic ideas.

Now you've found out what your audience is searching for online, and you can create content that matches those topics.
If you want to go more in-depth to discover what people are searching for online, you can use some paid tools.
Tools like Moz or Ahrefs can do extensive keyword research on thousands, if not millions, of inquiries. They will analyze your competitors, keyword difficulty, organic search traffic, and more. These are great tools if you want to put SEO as a top priority for your blog.
Set Up Google My Business
If you really want to stand out in the search results, create a business page for Google. This is an easy way to show up in search results and Google Maps. It's free to use, so it's a no-brainer to implement into your SEO strategy.
So how does it work? Let's go back to our Italian restaurant example from earlier.
Whenever you search for restaurants on Google, a feature from Google Maps is the first result. When you search "Italian restaurant San Francisco", this is what shows up: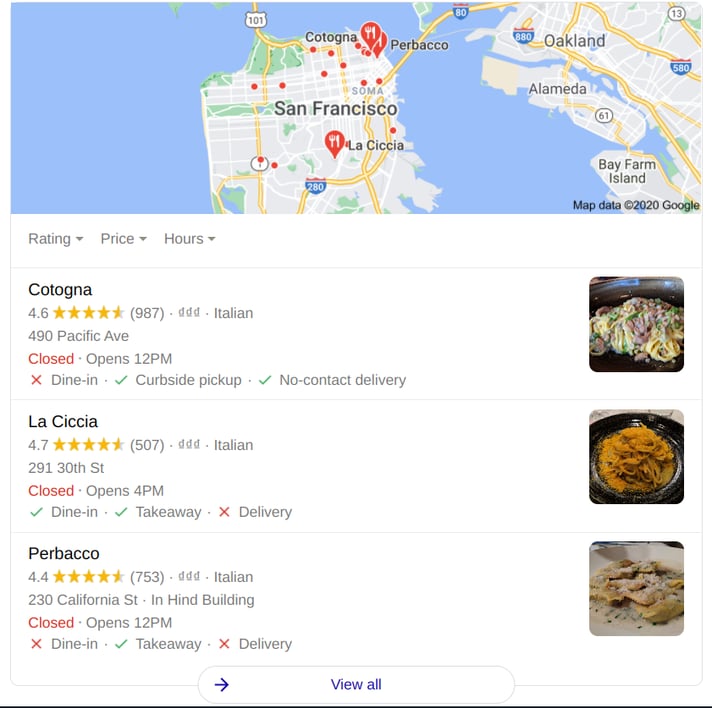 Google lists some of the top Italian restaurants in San Francisco in their map feature. What do all of these Italian restaurants have in common to make the ranking?
First, they have labeled themselves as an Italian restaurant. Secondly, they have highly-rated reviews. This signals to Google that they are a real-life Italian restaurant and that people like them.
Google My Business also gives you valuable sidebar space when people search for your business. Check out Disqus publisher, Darla Powell Interiors, and her Google My Business page. It's easy to interact with her business, read reviews, and even request a quote right on the first page of Google.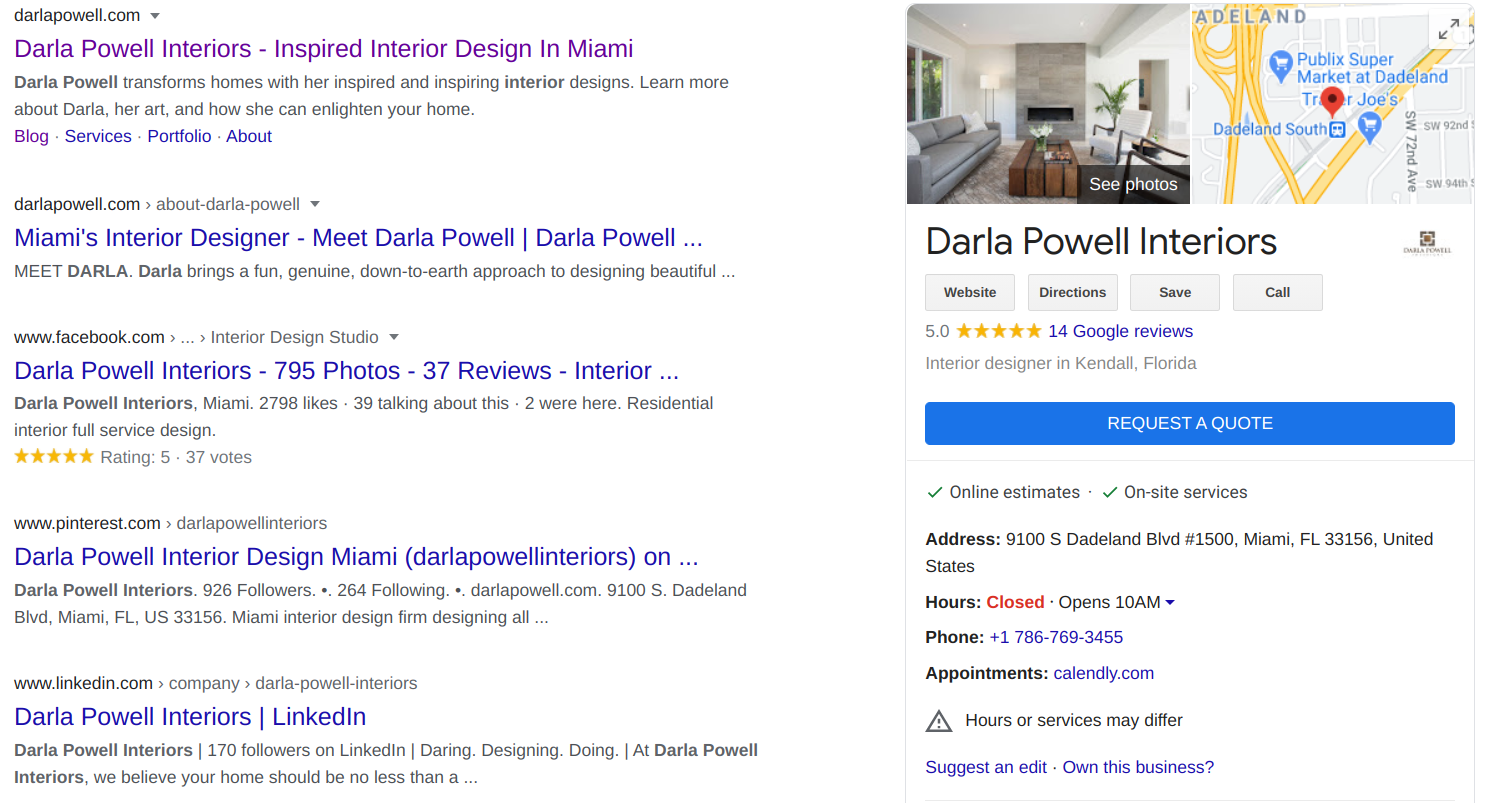 What Now?
So that's how to use SEO research to improve your blog rankings on Google.
Remember, it's not about keywords as much as the searcher's intent. By focusing on what your audience needs when searching for something on Google, you can create content that will fill the missing gap of information.
Have you tried any of our tips for SEO? We would love to know how SEO has worked for your blog.