Well, it's just about time to close the books on 2021 and take stock of what has been another very complicated year. On one hand, we were forced to press on through another challenging 12 months of the COVID-19 pandemic, but on the other hand, there were causes for hope and optimism due to vaccines and the miraculous work of the medical industry.

Here at Disqus, we put our heads down and continued doing what we love most—powering online conversation for thousands of publishers and millions of commenters across the web. 2021 was a busy year for us, as we debuted a number of exciting new engagement features and made meaningful enhancements to existing tools that publishers rely on to drive audience engagement.
As the year winds down, let's take a second to look back on all that we accomplished since we last flipped the calendar over as we look ahead to a new year and new opportunities for success.
Commenter Badges let you award your community all-stars
This year we rolled out our Badges feature, which lets publishers award special badges to commenters of their choosing.
Badges can be utilized in a number of fun and useful ways. First and foremost, badges act as a reward system that publishers can use to incentivize positive engagement—publishers can award badges to their community's experts, or users who receive the most upvotes for meaningful contributions to the conversation, or even that special commenter who simply makes everybody laugh. Publishers have the freedom to award—and customize—badges in whichever way best serves their community's needs.
Badges also can be used by publishers for identification purposes. Some publishers use badges as a fun way to identify moderators and organizational admin, while others use badges to highlight those commenters who are verified experts on a given topic. Birthday badges, Pride badges, you name it—publishers are empowered to get creative and dream up any badge they can think of.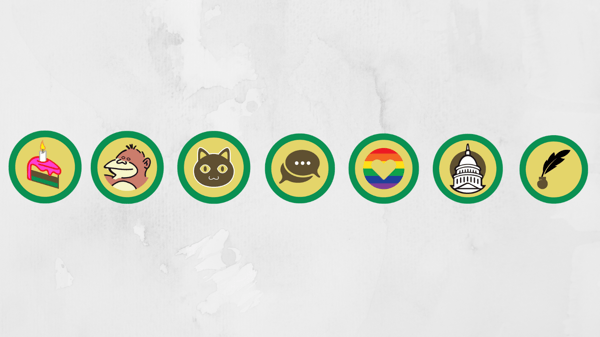 Publishers have really taken to the Badges feature so far—over 10,000 badges have been handed out across the Disqus network since the feature debuted in September.
Disqus Pro and Business customers can enable this feature and start awarding badges today. Do you think Badges are a great fit for your community? Sign up for a free 30-day Disqus Pro trial to get started with Badges now.
Pre-moderation lets you establish the tone for your community
Ensuring successful moderation for your site's community is all about efficiency and scalability. Nobody has the time or, frankly, the desire to sit through and moderate each of their site's comments one by one. That's why we're constantly adding new features to our moderation panel that help set you and your site's comments section up for success.
Our updated pre-moderation functionality gives you the ability to effectively set the tone of your site's moderation policies, giving you the flexibility to adjust which comments posted to your site will require moderation and which won't. We've also added the ability for you to establish whether or not commenters new to your site will require moderation and for how long. Essentially, this new feature gives you the power to make new commenters gain your trust before their comments can bypass moderation moving forward.
New, improved Reactions to inspire audience engagement
For publishers, the name of the game is, as always, looking for ways to bring your audience into the conversation and encourage them to contribute in meaningful, positive ways that make your community a more vibrant and engaging space. Our Reactions feature, which underwent a major facelift this year, was built for exactly that purpose.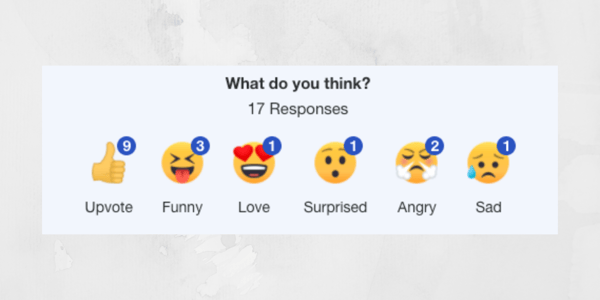 Reactions don't just get your users to merely engage—they're also meant to provide real-time insight into how your audience is responding to your content, in a visually appealing manner that is intuitive for both publishers as well as their commenters.
Disqus for Business -- our customizable enterprise solution for larger teams
In 2021 the digital publishing landscape continued to evolve and grow in complexity as we began to learn more about such fascinating concepts as the metaverse and witnessed developments in the world of social media that have wide-ranging implications for all of us. The rise of first-party data continued apace, making data ownership and audience retention more crucial than ever before as the cookie-less future draws closer.
One thing became more clear than ever: online communities—public spaces where people are encouraged to join in on the conversation and share their thoughts and feelings about the topics that matter to them—are precious resources that allow us to come together in ways that we can't always take for granted in this socially distanced day and age. Disqus for Business, our enterprise-tier solution, equips you with all of the tools you need to engage, retain, and grow your audiences in a highly scalable and customizable fashion.
Offering simple and universal SSO integrations, customizable branding features, and a robust suite of engagement and moderation tools, Disqus for Business makes it all possible for you and your site. Learn more here.
Farewell to 2021... and a look ahead to 2022
Let's face it—2021 was a challenging year for many of us, as we were forced to contend with new COVID-19 variants, economic and political uncertainties, and generally a more complicated world at large.
That being said, we here at Disqus are looking to the new year with a great deal of optimism. We think publishers, and especially those who look to unlock the potential of online conversation, are ideally positioned to take advantage of our growing need for civil, good-faith information sharing and discourse. To that end, we have some very big ideas about how to take online conversation to a whole new level in 2022, and we're so excited to share them with you very soon.
From all of us on Team Disqus, we wish all of you a very safe and happy holiday season, and we'll see you in the new year. As always, we thank you for continuing on this journey with us!
💡Interested in being the subject of one of our Publisher Spotlights? Let us know in the comments and we'll reach out.