There is a common misconception that Pinterest is a platform only used by brides-to-be and wedding planners, but don't let that myth fool you. There are plenty of food, lifestyle, and shopping sites using Pinterest such as, Man Repeller, Gridfiti and Bluffworks. Pinterest's active user base grew 26% to 335 million last year! In fact, Pinterest is now the third largest social network in the US.
If you aren't familiar with Pinterest, it's like a visual bookmark platform. You can save images and graphics that are linked to websites. Ultimately, Pinterest has millions of users that are yet to be introduced to your brand or website.
Pinterest isn't just a place where you pin a graphic to a board and call it done. There's a whole strategy behind Pinterest that could exponentially increase your traffic, and today we're going to tell you how.
Why You Should Start Using Pinterest
Pinterest may be one of the biggest platforms that can help you get more eyes on your content, as around 43% of Internet users in the U.S. have a Pinterest account.
If you're looking to reach women in the US between 25-54 years old, you MUST be on Pinterest, as they reach 83% of people in that demographic.
Not only do you have better chances of reaching this audience, but you also find people that are ready to commit and convert. 58% of Pinterest users say it helps them make shopping and purchasing decisions.
The key to success on Pinterest is to treat it like SEO. Just like Google.
We'll talk more about Pinterest SEO later. You'll want to keep that in mind, though, as you create content for Pinterest marketing.
Here are four tips on how to successfully use Pinterest to increase your website traffic.
The Keys to Success on Pinterest
1. Create a Pinterest Strategy
What type of graphics performs well on Pinterest? Ultimately any graphic that leads back to your website is golden, but informative pins can intrigue a user to check out the connected website link. There are a few different ways to make your Pinterest graphic appealing to an audience.
Here's a quick round-up of popular content on Pinterest:
Products
Infographics
Blog banners
Lead magnets
Quotes
How-to graphics
If you want to take it a step further (which you do 😉), you need to enable rich pins. Rich pins are a free feature that allows you to put extra information on a pin description. They give readers more content to engage with and persuade them to follow the link to your website.
Here are three different types of rich pins and how to utilize them:
Product Pins
Do you sell products? Use product pins to show the price, availability, and product descriptions. This is a great option since many users purchase directly from Pinterest.
Article Pins
This is probably the most popular choice with content creators because it's an easy way to promote your blog content. Article pins show the headline, description, and author of a blog post.
Here's an example from The Every Girl. You can see the author name, and a "Read it" button instead of the usual "Visit" button.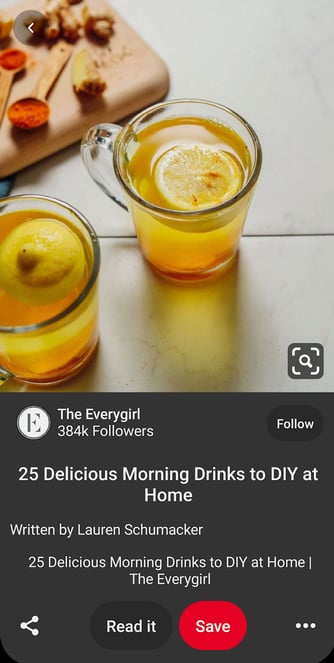 Recipe Pins
If you have a food blog, recipe pins are going to help your traffic. Recipe pins will put the recipe title, serving size, cooking time, ratings, and a list of ingredients in your Pinterest description.
Check out this example from The Dinner Daily: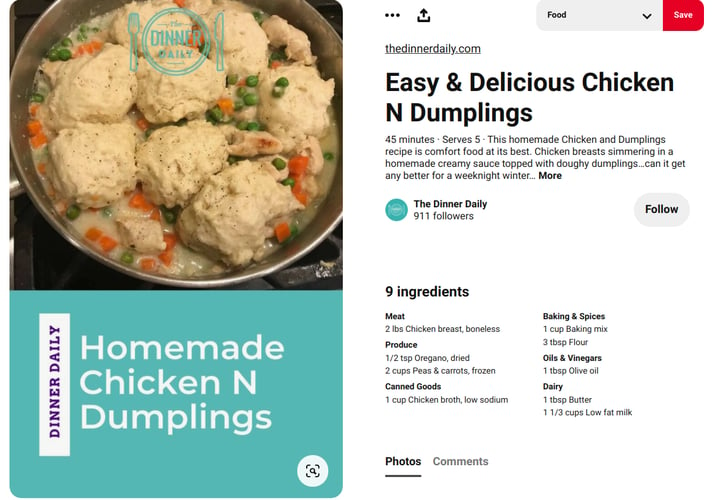 You can see how the pin description includes how long it takes to cook the recipe and serving size. The rich pin also features the ingredients without having to check the link. This can help intrigue the user and help them decide to check out the link for the full recipe.
2. How to Use Pinterest SEO
There are more than 2 billion searches on Pinterest every month, and since Pinterest is essentially a visual search engine, it's important to find the right keywords to use.
Here's a quick method to find what people are searching for on Pinterest.
Let's say you have a travel blog. Type in "Travel" in the search bar, and Pinterest will come back with suggestions for related searches.

These search results can help you develop content and pins to create for your Pinterest marketing strategy. Based on searches related to travel, you might start creating content about places to travel, trailer remodels and organization, or tips on traveling to a specific country.
Once you find keywords, you'll want to add them to the pin title and description and your board titles and descriptions. Just like Google, avoid the infamous "keyword stuffing" and putting in unnecessary keywords.
For example, Nom Nom Paleo has a board title called "Keto recipes". They also include this keyword in the board description with a few other relevant keywords.

Pro Tip: Consider adding relevant keywords to your profile, in your name and description. This can help you show up in search results as well.
3. Consider Group Boards
Group boards (sometimes known as community boards) are boards owned by someone else, but you can pin your content to it. Contributors to a group board are also usually required to share other contributors' pins on their own boards. This helps increase exposure for all contributors.
You have to be invited or go through an application process to get access to group boards, but the effort is worth it to get your content in front of different audiences.
You can find group boards by using the Pinterest search bar. Type in a keyword and change the settings to look for boards only.
Start looking for boards that show multiple profile pictures in the bottom left corner. Here is one example. The left board is private, but the one on the right is a group board.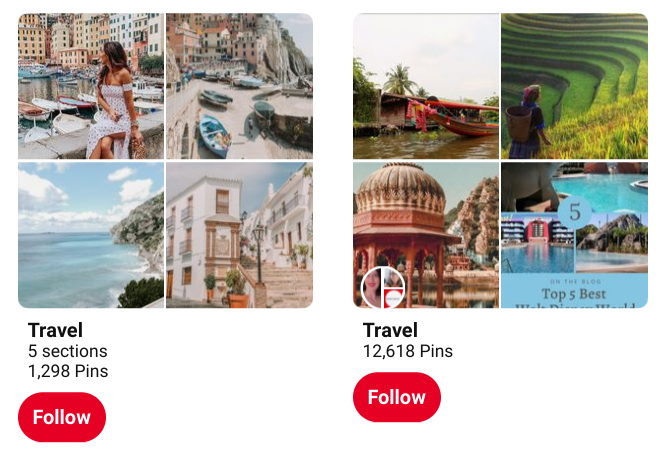 4. Pin Regularly
For maximum exposure, you'll need to pin and re-pin regularly. Similar to other social media platforms, Pinterest likes fresh content, and this can be a nuisance for many busy content creators.
Luckily, there are many tools that you can use to schedule your pinning. A lot of these tools even have advanced Pinterest analytics, which can help you grow your website traffic even more.
Here are some popular options:
Tailwind (Free trial with a paid subscription)
Later (Free and paid subscription options)
Buffer (Free trial with a paid subscription)
What Now?
Now that you know how to create a Pinterest marketing strategy, it's time to head over to your Pinterest boards and start pinning!
Have you started using Pinterest to grow traffic to your website? Let us know if it works for you in the comments.