Today we're excited to announce a new, Disqus-exclusive ad-position for Reveal. Reveal's new in-thread ad-position allows publishers to take advantage of brand new inventory. We built in-thread to help more publishers earn more revenue from their engaged communities.
Open up new inventory
The in-thread position is available exclusively through Reveal and gives publishers a brand new way to monetize their content and communities.
"You've just created new real estate, allowing me to monetize an area that I was not previously able to, without competing with other ads on my site" - Rob Port founder of SayAnythingBlog
In-thread displays within the comments in active discussions with at least 4 comments. Taking advantage of this new inventory, Reveal publishers with active communities can significantly increase their earnings.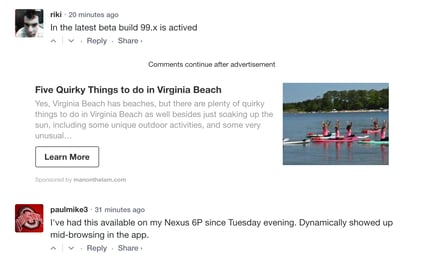 Avoid Conflicts
We developed in-thread so that even more publishers can take advantage of Reveal to earn incremental revenue from their engaged communities. We know that our publishers care deeply about the content and appearance of their sites. For some publishers, having Reveal ads adjacent to their content or to other ads on their sites is not an option. Since in-thread displays exclusively within the comments on active discussion threads, more publishers can take advantage of Reveal while avoiding conflicts with their content or other ads.
More Engagement = More Revenue
Earnings from the in-thread position are directly linked with engagement. Heavily engaged communities will have the highest earnings potentials with in-thread. More engagement means more impressions and a higher fill rate for in-thread, giving publishers another reason to invest in their communities. Use Engage's robust audience development and community management tools to increase earnings potential with in-thread. To learn more about using Engage to build communities, check out some of our recent posts on Google AMP compatibility, Embedded Comments, User Mentions, and Mobile Moderation for iOS.
Getting Started
Publishers who are currently active on Reveal can activate in-thread from their Reveal settings page. Publishers who are currently not using Reveal, but meet our Eligibility Criteria, will be able to activate Reveal and in-thread from their settings page. To learn more about how to turn on and use in-thread, check out our FAQ.
Want to learn more about in-thread? One of our publisher success managers can help you figure out if in-thread is a good fit for you - just click below to let us know.